Peace out, Pink Out!
On Friday October 28th, Kempsville celebrated the last home game of the regular season with a bang! Students wore pink in support of breast cancer and wished the seniors on their way for senior night!
The game was held at Virginia Beach Sportsplex against Cox High School. This game was a highly anticipated tie breaker between the two schools. Both schools' standings were 7-1 and the outcome of Friday night's game was hard to predict.
The first half of the games posed some challenges, with several penalties allowing for Cox to get a 10 point lead. However, in true chief's fashion, the team came through in the second half and ended the game with a score of 14-10! Despite the fact the players didn't get to play their last game at home, those in the stands felt the passion and saw the hard work each player put in.
"We didn't get to play our senior night at home, but we run the beach so basically anywhere we play is home," says outside linebacker Isaiah Ceus.
Despite the game being held at the Sportsplex, the seniors were not forgotten about! Kempsville celebrated the football team, cheerleaders, band, choir, and golf seniors!
The football team celebrated 21 seniors, all of which were greeted with cheers, signs, and flowers! It was bittersweet to say goodbye, but the playoffs are just around the corner so we know that the chiefs aren't done yet!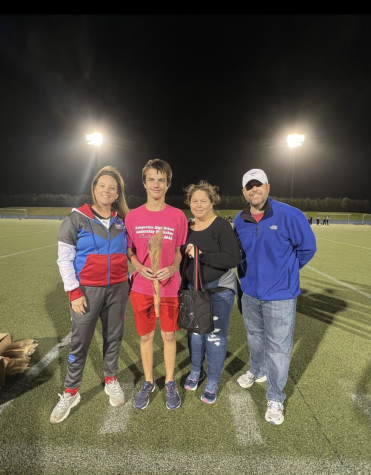 Next the cheerleading team wished off 7 senior girls! We know they are all destined for great things in the future and we are so excited to see what they become! One thing Kempsville hopes we leave with them is that spirit!
Our favorite musicians were not forgotten about! The band said goodbye to 6 of their beloved members and is so excited to see what else is in store for them! The choir celebrated 8 of their members and while it was bittersweet, the choir knows there's much more to do before the year is over! 
Last but not least, the golf team! This team only had to say goodbye to one senior, however this doesn't make it any easier! We are proud of you Jonah Cinnamond! We wish you best of luck in all your future endeavors!
While saying goodbye to our seniors is never an easy task, we have confidence in their abilities! We are so happy to have spent the last four years with you! We wish all of you the best!
As the saying goes, "Don't cry because it's over; smile because it happened."