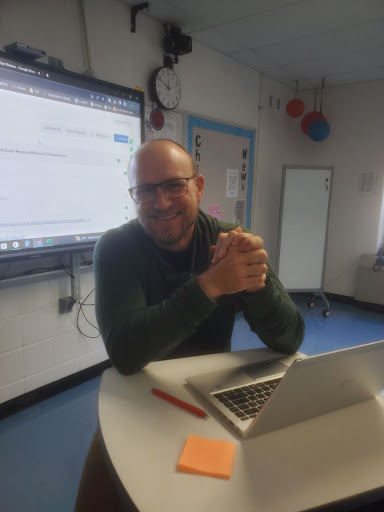 "Honestly, he was pretty strict, but he knew how to take a joke," said Leah Mansfield, who is currently a senior and a former student of Mr. Penn's. 
Mr. Penn is a second-year teacher at Kempsville High School, and graduated from Wabash College, and then Bluffton University where he received his Master's in Business Administration with a focus in sports management.
Since beginning his teaching career, Mr. Penn has taught many Economics and Personal Finance classes, and helped students to learn the material well enough to not only pass the W!se test, but also to have financial competency once his students become independent adults. 
Mr. Penn says that he "has high expectations for his students because he knows that they can excel if they just care."
Mr. Penn himself is an "ultra competitive individual," and that is what led to the success that he has today. 
He believes that if students can care even a little bit and do the work on time, they can get a good grade while also understanding the material.
Mr. Penn wants his students to be able to use the financial skills that he teaches in his course to help them make smart choices when they are independent adults, saying "I don't care if they learn about in classroom stuff as long as I affect their outside of classroom stuff…how can I make you a better person so that when time comes you have to make a decision, you're making one that's best for you."
As a former student of Mr. Penn, Miss Mansfield has experienced not only Mr. Penn's teaching style, but has also experienced his standards for students. 
Miss Mansfield was doing dual enrollment classes at the same time as EPF (economics and personal finance), and as such, was late on work occasionally. "If you had late work, you had to get it done because he would not leave you alone about it," said Mansfield, recalling her missed assignments. 
Though he was strict about late work, he was incredibly strict about cell phone usage in the classroom.
Mr. Penn had a strict phone and tardy policy, and as such, he had the most referrals of all the teachers at Kempsville High School for the 2022-2023 school year. 
When asked, Mr. Penn claimed that he had "about 126 total referrals for the year."
With being a teacher, Mr. Penn is also the head coach of the Kempsville High School Baseball Team. 
During college, Mr. Penn played baseball, so when he was approached about a coaching position with the Kempsville team, he agreed to the job. 
Many seniors on the baseball team including Jackson Wall, Cade Eidson, and Nick Sanchez who want to play college baseball are spending time with Mr. Penn, preparing for the rigorous work that will be involved with college baseball. 
Jack Wall says that Mr. Penn is "a good coach and he's harsh sometimes, but he's just trying to help as much as he can."
Sanchez agrees that Mr. Penn "cares about his team and tries to improve them as much as he can."
Similar to his teaching style in the classroom, Cade Eidson said that Mr. Penn has a "strict coaching method that is effective," and helps the athletes refine and improve their skills.
With many seniors and juniors on the Kempsville Varsity Baseball team, Mr. Penn has been doing work to prepare them for the obstacles of college baseball, saying he "brought on a really good assistant coach, Tommy Bell who I coached at Old Dominion…it's about developing them as baseball players to help them make the transition into college easier."
Though it is only Mr. Penn's second year teaching here at Kempsville, Mrs. Meghan Timlin, academy coordinator, says that due to his MBA, it allows him to teach dual enrollment finance courses, which is highly desirable in teaching candidates for the Entrepreneurship and Business Academy.