New Media and Broadcasting Class Makes a Splash at Wavy News 10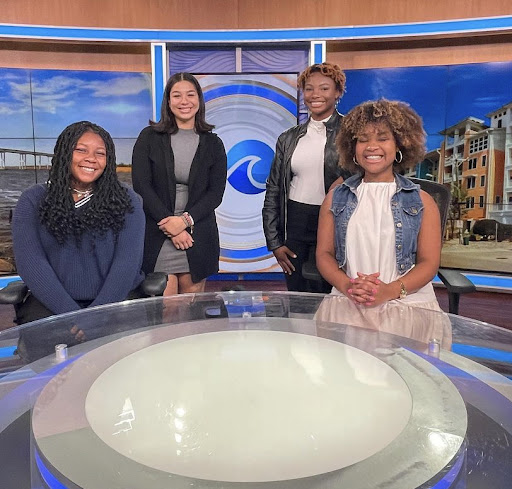 At the end of 2021-2022, Kempsville introduced a new media and broadcasting elective. Four brave and outgoing students took advantage of this opportunity and are now making big moves not just at Kempsville but in the community as well.
The media class was presented with the opportunity to go to Wavy News 10 to explore their studio and learn about what it means to be a news anchor. The class embarked on their adventure last Friday morning with big hopes and eager minds, and what was in store for them was better than anyone could have imagined.
Mrs. Mary Boubou and her students, Adriana Boone, Makayla Boone, Amaya Lindo, and Ainslea Valera were welcomed on the Wavy 10 set with open arms. They all were able to explore how a professional news outlet runs and learned fascinating tips and tricks they can take back to Kempsville.
Additionally, they learned about different internship opportunities that the outlet provides and were able to network with those who have experience in the industry. Mrs. Boubou was able to help her students understand how a Wavy 10 internship works, as she was a previous intern for the outlet.
Boubou detailed how exciting it was for her to return to her old stomping grounds. She explained that it was like a homecoming for her and that she was super excited about taking her students on such an educational journey.
Her students really enjoyed the trip and took a lot from the experience. They explained how opportunities like this don't come very often and they were all really grateful they got to experience something like this.
"Seeing behind the scenes of wavy news was truly an experience that I will never forget! I feel like I visited a place and saw a world that I always wanted to," said Media student Amaya Lindo.
The trip to Wavy 10 is just the beginning of this class's journey; these students are destined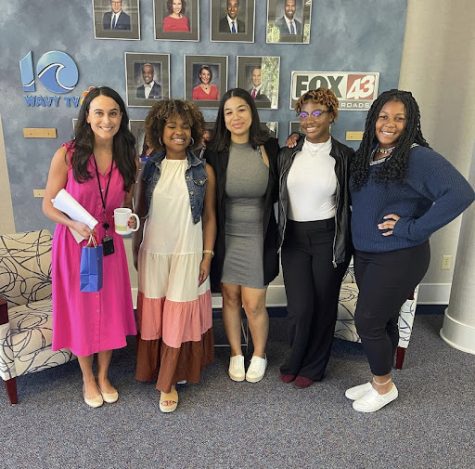 for greatness.
While the class may seem like an easy elective, this is not always the case. "It is high pressure, requires teamwork, and uses problem-solving skills each and every day," Boubou explains.
However, all the hard work is worth it. "This class allows students to explore the news media field firsthand. It also gives students an opportunity to showcase their talents and polish their public speaking skills," said Boubou.
No matter the hardship, Boubou's students are ready and eager to learn in this class.
"This course has allowed me to explore one of my passions which is communication. The class allows us to creatively communicate with everyone in the school, which is why I love it so much," student Adriana Boone explains. "We have all gotten pretty close and formed a little community because of it."
We're super excited to see the things this class continues to make and are inspired by their passion for their work. Keep doing great things!