Kempsville Varsity Basketball Teams Celebrate Senior Class of '22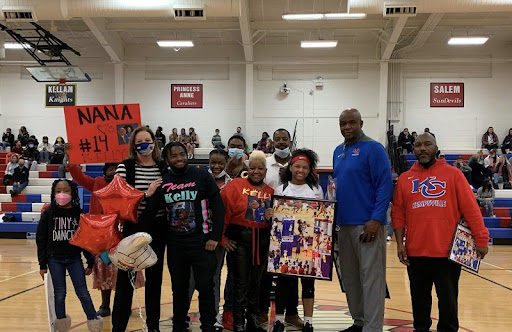 Senior night is something high school athletes look forward to when joining a sports team. There is an excitement to being recognized for athletic growth and having a team to celebrate the last year in high school with.
On Tuesday February 8, the Kempsville boys and girls varsity basketball teams gave their seniors the recognition they deserve by hosting KHS Senior Night.
The game was held at Kempsville High School and played against First Colonial High. Both teams showed outstanding sportsmanship and work ethic. The girls team started out the night well and won with a score of 76-52. The boys played, ending off the night with a score of 78-44.
Lots of fellow Chiefs and their families came out to show their support for our players. Principal Mrs. George and Student Activities Coordinator Ms. Conaway made an appearance and took pictures with the seniors and their families.
The recognition ceremony was held during the intermission before the boys game. The ceremony sparked excitement from the audience. Many peers made posters and brought gifts to show their love and support for our players.
There were many family members who came out to support their athletes. Many made shirts, posters, and brought balloons to show the athletes how special they are.
The girls team celebrated two seniors, Makayle Goodman and Safyah Carr. Both players are extremely valuable to the team and have shown their younger teammates what hard work looks like. The team gifted their seniors with picture collages that showcased their time with the team. Both players have left a mark on all of their teammates and Kempsville wishes them luck in all their future endeavors.
The boys team celebrated five seniors: Rondre Bynum, Kamari Jackson, Nick Neil, Jahari Almond, and Elijah White. Coach Sanderlin congratulated each of the boys and expressed how valuable each of them are to the team. Each senior was given a gift basket to show how much they are appreciated.
However, one senior got special recognition for his remarkable leadership and skill. Elijah White was recognized for scoring over 1,000 points and 500 assists in his four-year varsity career. In honor of these accomplishments, White was given a signed basketball with his records on it, a plaque, and a spot in Kempsville High School's Varsity Basketball Hall of Fame. White has shown his teammates that acting on the things you are passionate about can take you to amazing heights.
It is these values that Kempsville hopes it has instilled in all of its student athletes. Wishing all seven of these seniors farewell is bittersweet, but Kempsville is confident in their abilities and knows that all of them are destined for greatness.