'90s Fashion Makes a Comeback
As they say, "what goes around comes around," and in the world of fashion, the '90s are coming back at full throttle. Streetwear that originated in the 1990s, such as platform shoes and baggy jeans, are resurfacing among the trends of 2021. 
Some of the most popular trends are boyfriend/mom jeans, mini skirts, graphic tees, biker shorts, and just recently, claw clips. There are also some trends that are inspired by "y2k" apparel such as low rise jeans. Although there are many reasons why fashion trends repeat themselves, one of the biggest ones is simply because people tend to find inspiration in their parents' wardrobe. It's not rare to look at an old photo of your mom or dad and think, "Hey, I really like that outfit."
Baggy jeans have made the biggest comeback in the past year and have become one of the most sought after clothing items. They were made popular by skaters and hip-hop artists in the '90s as a symbol for freedom and breaking away from the trends of the 1980s. Out of a panel of 125 students, 92% voted that they liked baggy jeans and 8% voted that they could do without them. This just gives a glimpse into how popular they have gotten. 
"My favorite '90s trend that is coming back is baggy jeans or pants," said sophomore Maddie Diaz. "I feel like they make outfits more interesting, and they're a lot more comfortable than skinny jeans or tighter fitting pants."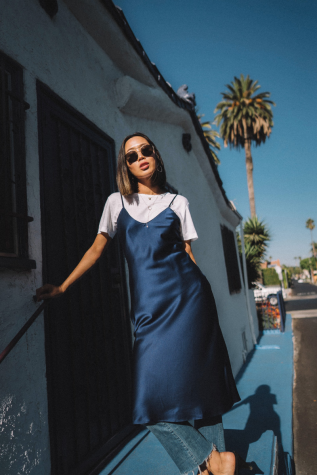 Another resurfacing trend is slip dresses. The thin, silky dresses are typically worn either by themselves or over the top of a basic T-shirt. The slip dress is most notoriously remembered from supermodel Kate Moss who was seen wearing them in 1993. Out of a panel of 120 students, 81% liked slip dresses. 
"I'd probably say crop tops or slip dresses [are my favorite] because they're good for basically anything because you can dress them up or dress them down," said freshman Caitlyn Hansen.
Much like the people in the '90s, we cannot forget to accessorize. The most popular accessories that have made a comeback are scrunchies, butterfly clips, claw clips, small purses, and small framed sunglasses. Claw clips are the most popular amongst students with 76% out of a panel of 123 students liking them. 
There are many different opinions on what 1990s trends are "hot" or "not."
"I really love platform shoes because I feel like they add more to your outfit and because of the different types like sandals, boots, and sneakers. Also, [I like] overalls because they give a comfy, but stylish, look," said sophomore Kiaya Adams.
However, others realized not all '90s fashion encompasses every body type.
"Low rise jeans [are my least favorite] for sure. It's so hard to pull them off. They aren't really body inclusive… meaning like you're really only going to see slimmer people doing this trend whereas other trends are more inclusive to other body types," said senior Jessica Kocher.
Although '90s fashion is making a comeback, many should remember to dress in what feels comfortable. As said by famous fashion model Inès De La Fressange, "The secret of great style is to feel good in what you wear."