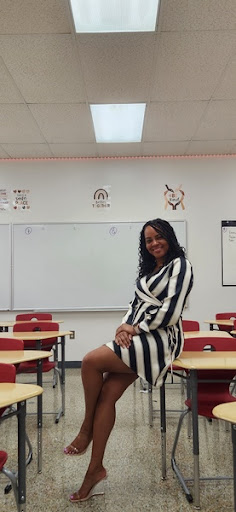 Ms. Sucre, a math teacher at Kempsville High School, is forever altering the trajectory of her students' academic journeys, through innovative teaching methods and contagious enthusiasm.
Ms. Shanice Sucre has been teaching for five years. She moved to the United States from the Caribbean at the age of 17. She has her bachelor's in Applied Mathematics with a minor in finance. She is currently a geometry teacher and a member of various other committees. When not partaking in these activities, she dedicates most of her free time to helping her students.
 Ms. Dewey, an Algebra II teacher, said, "She is always doing things above and beyond the job requirement, she's always with students during her lunch." 
Everyone who has worked alongside Ms. Sucre can confirm that she has largely impacted not only their work environment but their personal lives as well.
Daryl Cherry, a math teacher and football coach at Kempsville High School, who works closely alongside Ms. Sucre, stated that "she pushed me to excel beyond my means, I will do the same thing. We always try to push each other to be better."
Ms. Dewey also noted that Ms. Sucre is "full of energy, always has a positive attitude, and brings great new ideas to the math department"
Ms. Sucre's willingness to collaborate has not only enhanced the quality of her instruction but also promoted a culture of mutual respect and created a safe space for other members of the math department to exchange ideas and brainstorm more efficient ways to teach their students.
Ms. Sucre mentioned that " if I do an activity or create a lesson, I will share it with my co-teachers. I feel like it goes both ways because we all share."
Alongside her strong work ethic, Ms. Sucre also makes sure to establish strong personal relationships with her students. 
She says, "Having kids give actual feedback in class, and feeling welcome and safe and feeling like they can be who they truly are makes me realize I'm doing something right because they are happy. It makes all the stressful days easier and makes me more motivated to work."
Coach Cherry brought attention to the fact that her students are "always willing to come back and seek her advice about things," whether it concerns school or something personal. They heavily value her opinion because she maintains an open and honest relationship with her students and isn't afraid to speak her mind. 
The impact that Ms. Sucre has had on the students and staff of Kempsville is nothing short of remarkable. Her unwavering passion for teaching and her ability to inspire and motivate her students has transformed countless lives and created a ripple effect throughout the entire school community.