Soaring for Greatness
On Thursday, September 15th, NAS Oceana Naval Base held a media day for local Virginia Beach and Chesapeake Schools. Kempsville was lucky enough to be given the opportunity to go and do media coverage of the Blue Angels before their airshow on Friday.
Oceana allowed for one teacher and two student correspondents to attend the event. Ms. Tara Jones, Savanna Crawford, and Joi Burgess were the representatives for the school. While at the base, Crawford and Burgess were able to get a closer look at the work of a Blue Angel Pilot and watch real media conduct interviews.
Wavy 10 was one of the media outlets present at the event. Their news anchor Ricky Matthews was able to provide student correspondents with a great example of what a news anchor does. Matthews filmed coverage for his outlet and conducted an interview with Lieutenant Commander Chris Kapuschansky.
Kapuschansky went on to describe his life as a pilot. He stated that he had always known he wanted to fly ever since his father took him to see an air show as a kid. He wasn't aware that the navy had jets and he never imagined that he'd become a Blue Angel.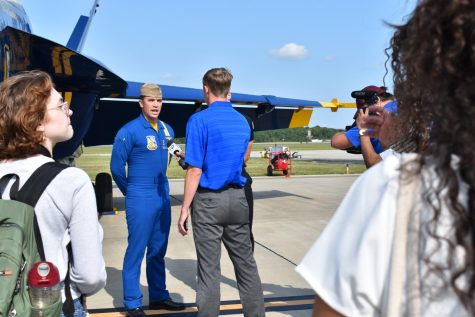 When asked about what advice he'd give someone who wanted to go into his field, he stated that no matter what you go into, you should put in your best effort. The amount of energy you put into your work will determine your success, so you should always give everything you do your all.
Crawford and Burgess took a lot out of their trip and were happy to be a part of the real press experience.
"These are our first steps as upcoming journalists to conduct interviews and share heartwarming stories with the public," said Burgess. "I'm really grateful I had the opportunity to be a part of this event."
Opportunities like this are important for young journalists in the community. They help keep journalism alive and provide hands-on experience for those who want to pursue a career in the field.
Kempsville is so happy to have been a part of such a beneficial event and is glad to share this story with its students and staff. We hope this story inspires other journalists to take advantage of the opportunities given to them and to keep sharing their stories.