Battle of the Streaming Services: Netflix vs Disney+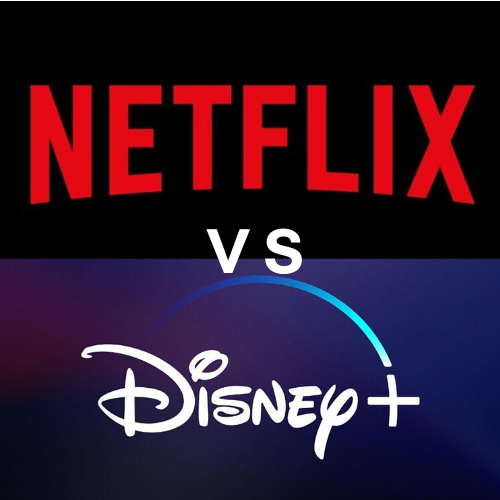 In November of 2019, Disney+ made its debut, raking in over 10 million subscribers on the first day. The entertainment giant's success continues today as it accrued 28.6 million subscribers in the first quarter of operation, blowing the original 20 million subscriber estimate out of the water, according to theverge.com. In the rising popularity of Disney+, many wonder what this means for the streaming veteran, Netflix.
According to Cowen Inc., Netflix lost at least 1.1 million customers to Disney+ in a mere month. Many wonder how a streaming service operating since 2007 can be so easily overtaken by a service existing only within the U.S. for three months.
Cailyn Banks, a junior subscribed to both services, prefers Disney+ because: "it's got all the Disney and…Marvel and Star Wars movies."
Other students shared the same sentiment, stating Netflix simply had less to offer. However, that can't be the case as Netflix has built up its collection of movies for years, whereas Disney+ only just started and most of those releases are fairly outdated. Their success doesn't boil down to how many properties Disney owns, but rather the type of property.
According to a 2018 businessinsider.com article, Marvel was the #1 franchise in high-grossing films followed by Star Wars. Other Disney properties such as Disney live-action remakes, Pirates of the Caribbean, and Indiana Jones also made the top 23 on the list.
The truth is Disney+'s advantage stems from audience familiarity and loyalty. Nostalgic fans flock to the streaming service to rewatch their favorite movies. Young adults are especially subject to this tactic because many of these films are deeply rooted in their childhood. 
Netflix seems to have taken notice as they've continued to produce newer content, but also add older titles from Disney's rival, Nickelodeon. TV shows such as Victorious and Sam & Cat are drawing viewer's interest, proving that nostalgia is a big factor in the success of streaming services.
Even with the skyrocketing launch of Disney+, Netflix won't be dying out anytime soon as it still has a large helping of subscribers. However, the battle of streaming services seems to be transitioning into a battle between quantity and quality.