Kempsville's Santa Claus Doubles as a Security Guard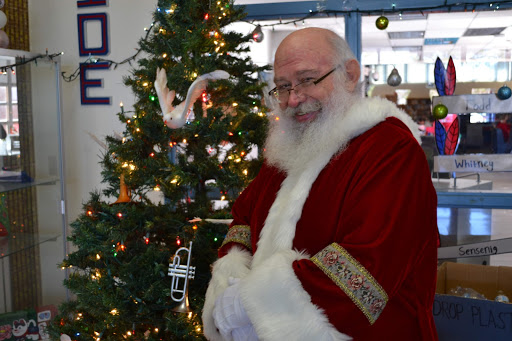 It's Thursday, December 19, and Santa is outside the Kempsville High School cafeteria, watching students and fist-bumping an occasional smiling passerby. Unfortunately, this Santa isn't from the North Pole; rather, he is Kempsville's security assistant and drama club director, Mr. David Springstead. 
Halfway through 3rd block he changed from his work clothes into a Father Christmas outfit and patrolled the halls wearing it all the way through lunch, talking to students and taking pictures. Even as he talks, while students are still in class and with the halls mostly empty, a student calls to him while walking through the hallway.
"Hey, Santa! You know his name, right?" The passerby asks, gesturing to his friend. 
Springstead nods. "I know what he's done, too!"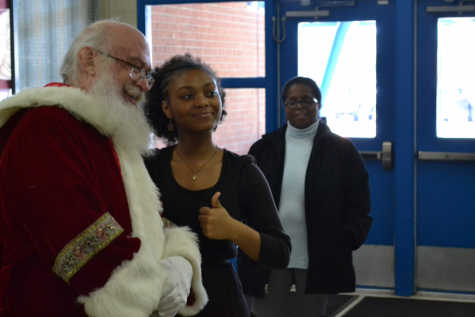 Springstead was asked to dress up by Principal Melissa George, who said that she decided to do it because she thought it would be in the spirit of the season, and that students would enjoy seeing him dressed up. 
Springstead has been nicknamed "Santa" for years by students, but he doesn't think the nickname is ironic.  
"There's a reason why I grow my beard this length around this time of year; because usually I'm doing Father Christmas in Norfolk with Dickens' Christmas Towne," Springstead said. He was the original Father Christmas in the event and has been doing it since it opened six years ago. This is the first year he hasn't done it, as he has a ligament injury that would prevent him from doing the 10-hour days that the job demands. 
Springstead has no particular goal in dressing up, but he said that he wanted to convey a message of being available to the students. 
"You never know what you're going to hear," he said. "You'd be surprised how students will talk to a Saint Nickolas figure sometimes about things in their lives. That's students of all ages. You know, that they may not say to anybody else." 
The decision to have him dress up as Santa was a last-minute one, said Principal George, who is happy to see how much students have responded. 
"When he first came out there were some parents in the foyer, and a dad was like 'oh my gosh, can I get a picture with you'," George said, "and then when he walked [into the library] some of the kids from the chorus immediately went to him and wanted to get a picture with him. [The] kids were just really gravitated to him." 
The idea of having Springstead dress up as Santa occurred to her last year, but there wasn't enough time to employ it.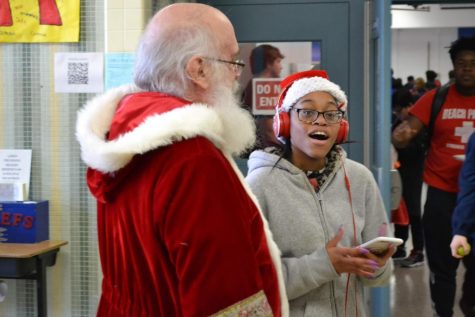 Even this year, she defines it as "a last-minute thing" but says that if it goes over well that administration will look to see how they can expand it so that they're recognizing all the different holidays that people enjoy. 
"[We're] open to whatever suggestions people have," George said. 
As Springstead stands at his lunch station, students buzz around, with a small group of people near the restrooms goading each other into getting pictures with him. Students coming out of the cafeteria fist bump him, and one student wandering through the halls stops to tell him what she wants for Christmas. When they look for him, calling him Mr. Springstead, Ms. Beverly Baker, security assistant, points them towards the cafeteria. "Father Christmas, that's his name!" She calls out. 
"I hope everyone has a great holiday season!" Springstead says. 
About the Contributor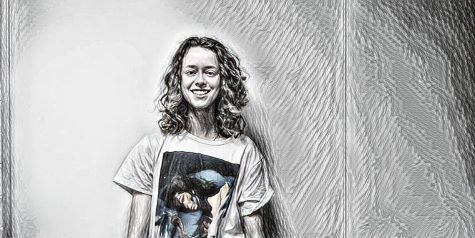 Sydney Haulenbeek, Editor in Chief
Sydney Haulenbeek is a senior and a fourth-year writer for The Treaty. She enjoys researching and analyzing nonsense, wasting time on Twitter, and working...