"What's My GPA?" Why GPAs Should be on Report Cards
As the first semester nears its end, a question is raised for many students, especially seniors: what's my GPA? At Kempsville High School in order for underclassmen to find out their GPA they have to go to the counseling office and ask their counselor to pull it up. For seniors, they have to file a transcript request through Parchment. Many students feel that life would be easier if they could find their GPA on their report card, progress report, or in VBCPS' grade checking website and app StudentVUE.
"I believe that students should have their GPA on the report card because, honestly, it's just super easy," said Timmy Doss, senior class president. "AP students are always signing up for things that ask for our GPAs."
Doss also explained how students need to know their GPAs, as it helps them plan for the future and for college. "[Knowing your GPA] also gives you a general idea of what classes you should take next year. Also for seniors, applying for scholarships and colleges, it's nice to know your GPA without having to go through Parchment, where you then have to request it and wait a few days." 
As for why it isn't included on report cards, school counselor Jennifer Carlson doesn't believe it is important, because of how frequently they're lost compared to digital media. 
"People get report cards all the time, and then they lose them," Carlson said. "Parchment would be the best way to go. I always tell my students, 'if you don't have a code, just register online and make sure you attach Kempsville High School as the school you go to and use a personal email.' You don't have to have a code."
Senior Payton Moga disagrees, although she is glad that her GPA isn't included in her progress reports. She finds out her GPA through Parchment and through the school counselors. She was first aware of her GPA sophomore year when she got her transcript. 
However, there have been a few instances where she wanted to know her GPA and wasn't able to easily access it: during the end of her sophomore and junior years. 
"I think having it on progress reports and report cards would just stress me out because I would be aware of it, and it would either go down or go up depending on if I had an A or a B or a C," Moga said. "I feel like it's not really in the front of my mind when I can't see it, so I'm less stressed about it."
One junior, Gabby Perkins, is beginning her hunt for scholarship opportunities and feels differently.
 "I think putting your GPA on report cards is important because then it lets the students know what they need to work on and if they need to improve their GPA or not," Perkins said. 
While students can get ahold of their GPAs, it doesn't look like easy accessibility to that information, especially for underclassmen, is going to change in the near future, although students disagree as to if they would profit from that. One thing that can't be denied is that being able to easily acquire GPA information would make the college admissions process easier, as well as searching for scholarships, and even just maintaining grades. At the very least, students have access to Parchment and their counselor can tell them their GPA when needed.
About the Contributors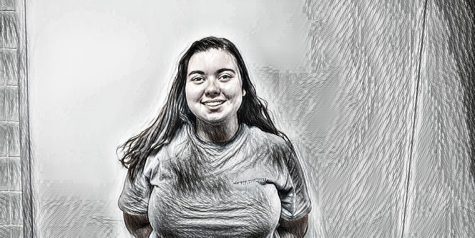 Paxton Coley, Managing Editor
I'm a senior here at Kempsville. I'm involved in not only the Treaty, but also the senior class government, drama club, SCA, WKHS, and marching band. I...