Bathroom Beautification: a Passion Project that is Spreading Personal Growth
It's half past 10 in the morning on Saturday, November 23, 2019, and the girls bathroom in the crux of the 800 and 100 hallways is packed with girls. Katy Perry's "Dark Horse" blasts out of a speaker precariously balanced on the wavy grey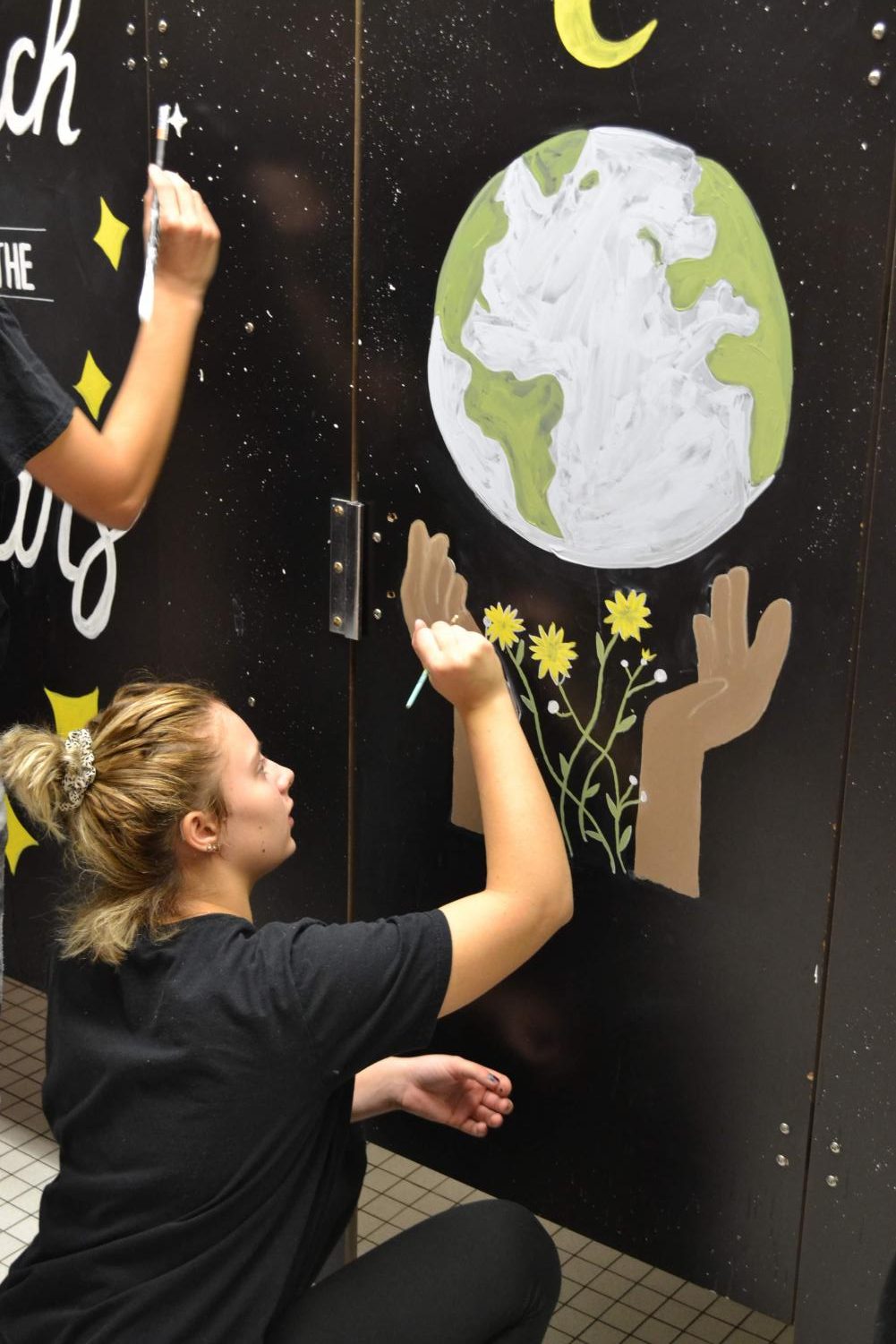 counter, and little red cups of water and paint are on the floor, too close to ankles for comfort. Most of the girls in the room are wearing sweatpants and t-shirts, and three girls are snuggled up in the largest stall in the room, painting pastel planets. Morgan Harwood, senior, and the creator of the Bathroom Beautification project, is smack dab in the middle, crouched on the floor and outlining painted hands on a stall door with white paint. 
Harwood came up with the idea of painting the bathrooms towards the end of her freshman year. The idea has since transcended throughout her high school years and become a passion project for her. 
"My sophomore year, I think I spent more time in the bathroom crying than I did in class," she said. "I really struggled with just my mental health in general, but it wasn't just me. I would see other girls crying in the bathroom too…I remember one time when I was crying in the stall, and I was like 'Oh my God, if I'm going to be here all the time at least it can look better.'"  
But the project of decorating the stalls in the bathrooms didn't come without its struggles, the expansive time it took to start being one of them.
"I came up with the concept my freshman year. I actually took action and began telling people about it my sophomore year. We did not have our first meeting until junior year. And we didn't get all the supplies we needed until senior year," Harwood said.
A few months ago, in a public meeting students had with Principal George, both Harwood and Jada Jones, Superintendent's Student Advisory Council member, spoke about the difficulties students face in getting any changes approved, with Jones saying that "It takes someone to actually enforce change and spend a lot of effort to change something."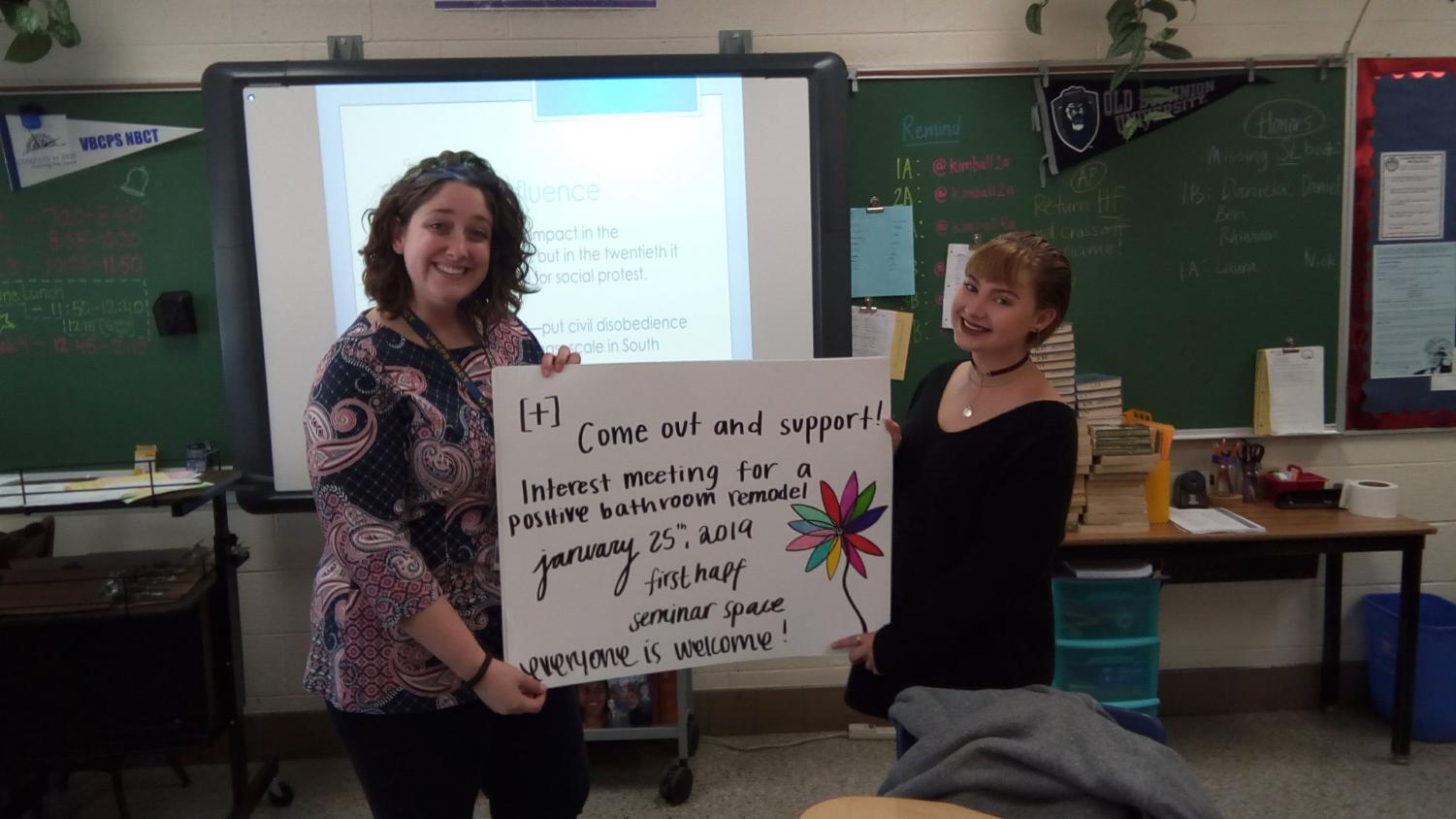 Harwood also emphasized course load as being a factor for the delay, describing her senior year as being the first to have the least amount of binding obligations, unlike how busy she was her junior year. She hosted the first interest meeting for painting the bathrooms on January 25, 2019, during her junior year, and then held further meetings at her house over the summer before her senior year, but the first bathrooms weren't painted until September 14, 2019. They were the ones between the 200 and 400 hallways; the girls restroom being the very one she had spent so much time crying in. The bathrooms painted on November 23 are only the second painted in her goal to complete them all before her graduation in June 2020.
"It definitely started as just a lot of my friends who wanted to support and then we got the word out through announcements, and we've had a lot of people show," Harwood said. "It's kind of whoever wants to do it." 
After the first painting, she has had to say no to several students who were interested in volunteering. "We were maxed out – the bathrooms are only so big!" She said. "We are trying to work on making it more selective as opposed to letting a bunch of people come." 
But the Bathroom Beautification project isn't run solely by Harwood – it is only possible due to the help of several people organizing it: Ms. Kara Kimball, AP English 11 teacher and adviser to the project, and seniors Elena Dias and Karmina Buensuceso. 
"The whole point of this project to Morgan was to make girls, when they went to the bathroom, to feel better because it was like a trend freshman, sophomore year when people would go to the bathroom and cry their feelings out," said Buensuceso. "We wanted to give them … a safe space. So we made sure that our first bathroom had quotes and things that make people feel better."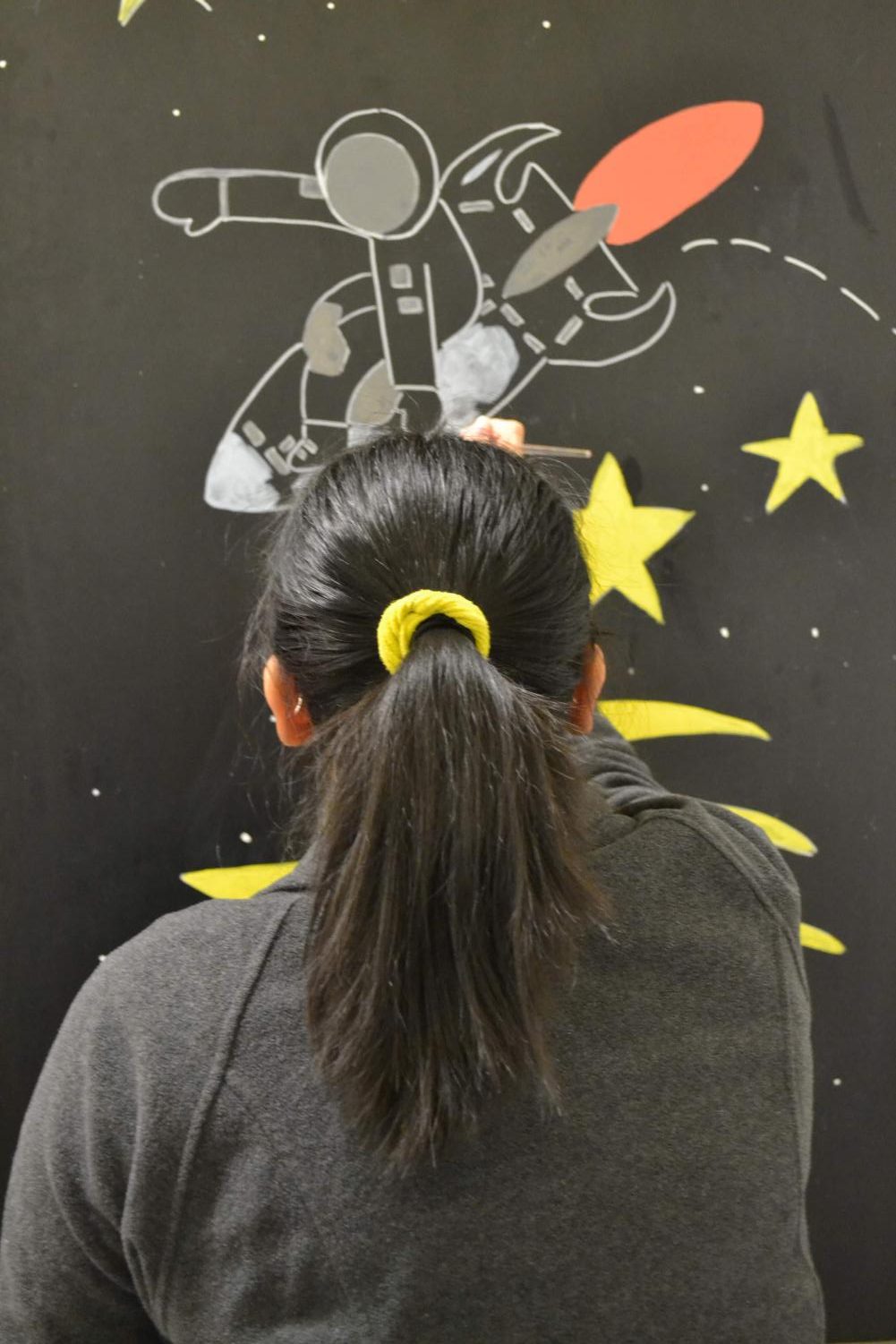 All three of the students, Harwood, Dias, and Buensuceso, modify and create the designs that ultimately end up in the bathrooms, but they still seek to represent themes that the student body wants.
"Every bathroom has a theme," said Dias. "This one [between the 100 and 800 hallways] is outer space, and being who you are with it. We spend a lot of time trying to [figure out] the details, like the shades and the colors, but we take surveys from students around the school to see what they might want. We take the survey from the students and combine art club and the students' ideas to make it be what everybody wants in the school, and not just a certain group of kids."
The first bathrooms painted, in between the 200 and 400 hallways, had what Dias described as a message of "personal growth, being okay with who you are, and empowerment." 
"I always wanted to leave something for Kempsville," said Diaz. "I feel like having the bathrooms done [is important], especially with personal experiences in needing to go to the bathroom to be alone for a second. I always felt like we could make the bathrooms something better than what they were: a stall, a mirror." 
My'Anna Williams, senior, also recently got involved, after having been invited by Harwood and having seen the first painted restroom.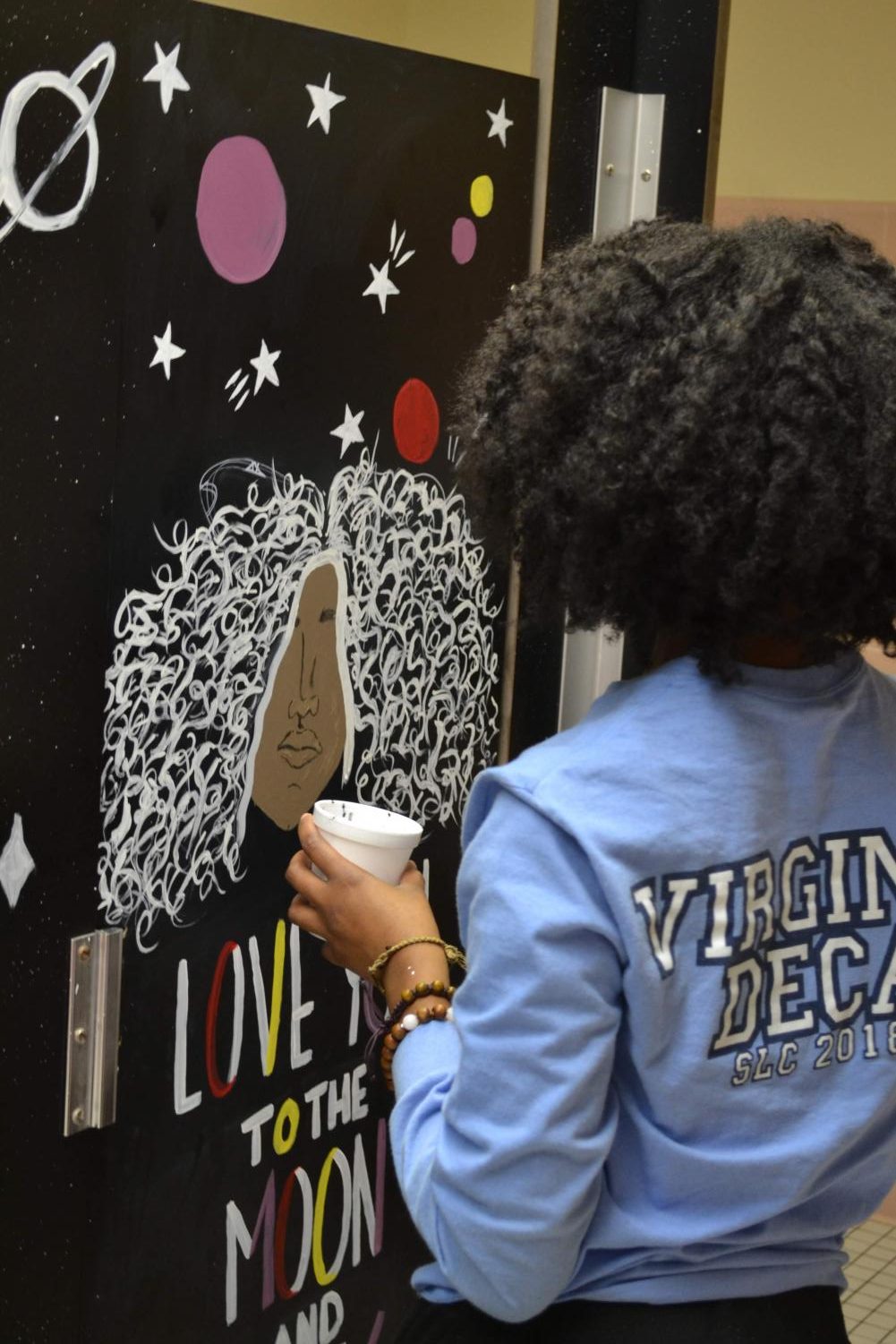 "I remember walking into the bathroom and going 'Oh my god, this is so beautiful,'" Williams said, "and I was having a bad day, and it lightened my mood."
"The last project that they did Morgan asked me, but I was busy – meetings and stuff – over the weekend, but I definitely wanted to be involved, so I was like 'Morgan, let me know when's the next one because I really want to do this.' I love art. I love Morgan. And I wanted to support." 
At this point, Harwood came over to talk about the stall that Williams is working on, of an African American girl with wild, curly hair on a backdrop of stars. The text underneath her reads "Love you to the moon and back." Harwood explains her original plan for the depiction of a girl with a bob and how Williams had reworked the design.
"I let My'Anna take over this one because I could not do as pretty [and] beautiful curls as this," Harwood said, motioning to the painting. "I had a bob, and I said f— it, and we let My'Anna completely do her thing."
For Harwood, the Bathroom Beautification project, in addition to having personal roots, strongly revolves around her desire to give back to the school. 
"My goal is really to do something different at Kempsville and kind of bring a uniqueness to us as well as something to make people smile," she said. "I mean, high school can be tough, and sometimes you just need to take a step out and it would be cool if, you know, you can go to the bathroom with pretty quotes instead of just wherever. I definitely just want to do something different; the school has done a lot for me, and I'm just trying to give back to it."
She has also enjoyed how the project has drawn together a variety of students. "We have all grades here," she says, gesturing towards the bathrooms from where she's sitting crisscross applesauce at the bottom of the auditorium ramp to talk to me. "I know the majority of the academy people, but this has let me meet so many people." She points out freshmen, and seniors, "which is really cool because a lot of upperclassmen and underclassmen don't mingle", and then juniors, before turning to a boy sitting on his phone a few feet away. "Someone brought their little brother – 'You're in middle school, right?'" She asks. "I had my sister helping with the first one. Painting is kind of therapeutic, which is also another little thing that can be really fun. You see them in there, they have the speaker, they're laughing, they're painting: it's really cool."   
She plans to begin work on the cafeteria bathroom in January. 
About the Contributor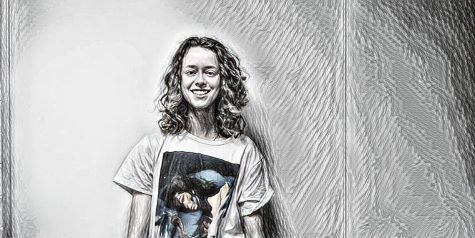 Sydney Haulenbeek, Editor in Chief
Sydney Haulenbeek is a senior and a fourth-year writer for The Treaty. She enjoys researching and analyzing nonsense, wasting time on Twitter, and working...