How the Coronavirus Has Impacted a High School Senior
I squint at my computer, tab on an Economics study guide, before glancing up and out the front window of the store face. I'm lucky: I'm still employed despite how many stores have gone down, and I still have one of my jobs, deemed "essential," even as I have been furloughed by the other. Looking back down I flip through my Profit and Supply handout, feeling marginally uncomfortable. The words on the page felt far more detached when "supply" was just referring to a fictional market, and not empty shelves void of toilet paper. 
This is how I have been impacted, as a student. A woman waves at me through the window. Do you have hand sanitizer? She asks, rubbing her hands together. My co-worker shakes her head no. 
The first few days after Governor Ralph Northam declared schools to be closed I hardly noticed the switch from full-time classes as work filled their absence. I'd get home at 7, eat, and then spend the next few hours going through my classwork for the day, flipping on my phone to 500 messages from the group chat with my friends as they chatted. They'd do nothing all day and then we would all work together until midnight and crash, before sleeping in (until 9 am, instead of 5 am) and repeating the process. 
I got to listen to Governor Northam's decision to close the schools live, as my boss asked me to keep tabs on what the governor said while I worked. His decision to close the schools felt like I had been punched, and I, like all of the seniors and students, have been left with more questions than answers. What happens to the Chromebook sitting on my lap? What about my friends that are going away for college? A signed yearbook, prom, walking across the stage at graduation – all wiped away in a fell swoop. It is impossible to predict where the world will be in three months – no one would have guessed three months ago that I would be going to school on my couch – and seniors are left without closure. I made it through 3/4 of my senior year, but the closing chapter of my life came to a grinding halt, and then a fade-away of classes, lined strongly with confusion. I didn't get to say goodbye to anyone. When I last saw my teachers, they were panicking, trying to pull together weeks of lesson plans and make sure we all had our textbooks. I feel like I looked absentmindedly at the graduation countdown on AP Government teacher Ms. Felt's whiteboard, and then when I looked back again the count was gone, and the whole classroom had been packed up. 
Last Monday I got to walk through the school. I needed to pick up a textbook, and talk to the Journalism adviser about our newspaper plans, but it ended up being a long walk through the empty halls. I've been in and around the school before when it was empty, for various activities and events, but this time it felt different. Posters up on the walls advertised events that had already been canceled, events in the future that now felt stuck in the past, like school, for me. Bends and halls I'd walked a thousand times were empty and extremely familiar, and I was faced with a mild terror that this might be the last time I saw them. 
Every day varies, either crammed full of classwork and work but all conclude with lingering questions: just how much has changed? And just how much will this continue to impact our lives?
I imagine this isn't how any of my classmates imagined their senior year. Many of my friends, who took APUSH [AP US History] with me have pointed out how so much has changed in a matter of days and weeks, leaving us with an eerie feeling of living through history. In the past, we have written essays in the perspective of citizens living through troubled times, such as the Great Depression. Now we get to see how America responds to panic and problems, as stocks fall and our chances of the "College Experience" and returning to normal life fade away, replaced with the healthy prioritization of human life during a time of crisis, and the acceptance of our roles and responsibilities in the health and safety of everyone in society.     
After seeing an overwhelming amount of memes about my graduation – will it be conducted on my couch, livestreamed? – shared by classmates who are both as anxious as I am, I wonder if that quiet stroll through the halls was my senior walk. If I'll ever walk through the building again, or slouch in the seats that were unofficially "mine" as I sketched out study plans for the AP exams that I will now take in my bedroom. My senior year is a year I'll forever remember, that's for sure, and it comes with sacrifices. This isn't a vacation to me, but time spent in isolation without my friends, an anxious fear for my future, for my exams, for my schooling. This is the swift elimination of the culmination of everything I had looked forward to for much of my life. This is the sacrifice that we are making for our futures, and for the futures of our parents and grandparents, and your siblings and families. Please, remember us, the workers checking you out and providing your basic needs, and the students locked away in a social quarantine, the essential sacrifices of a frequently labeled "selfish" generation for the common good.  
About the Contributor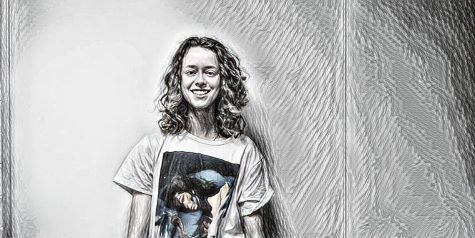 Sydney Haulenbeek, Editor in Chief
Sydney Haulenbeek is a senior and a fourth-year writer for The Treaty. She enjoys researching and analyzing nonsense, wasting time on Twitter, and working...