Gerard Way – Hesitant Alien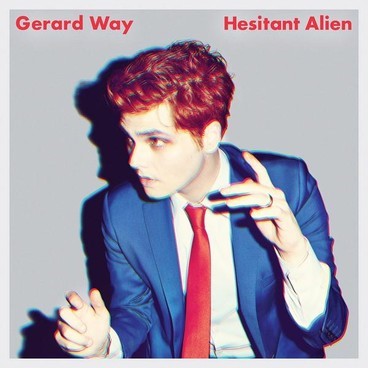 Gerard Way has been nestled into my angst-y teenage heart for as long as I can remember, starting when he was the frontman of alternative rock band My Chemical Romance. Since Way's debut as a musician in 2001, with the release of My Chemical Romance's album I Brought You My Bullets, You Brought Me Your Love, his musical style has evolved immensely. His former band's earlier albums were wholeheartedly inspired by bands he grew up listening to – Black Flag, Iron Maiden, and the Misfits. His debut solo album, which follows the break-up of My Chemical Romance, has turned its back on his previous lengthy, guitar-solo-ridden songs with a distinct hard rock edge. Hesitant Alien is dreamy and unsettling, short, to-the-point and poppy but hiding something rougher within.
When I first began listening to the album, my biggest fear was that Way's music had lost the emotion and energetic sound that had tied me to him in the first place. The first track "The Bureau," did not impress me. The sound is reminiscent of a pop artist trying and failing to release a rock song. It is stoic and uninspiring, not the call-to-arms anthem that Way was perhaps trying to create. However, subsequent tracks such as "Action Cat" and "No Shows" revived the energy that Way's songs usually radiate. A conglomeration of filtered, low-fi sound and catchy vocals, these tracks compel me to play them on repeat not only to hear the fantastic melodies again, but to revive the euphoric feeling they leave me with.
Though not as raw and unfiltered as his older music with My Chemical Romance, the low-fi quality of Hesitant Alien is nostalgic for me, reminiscent of post-punk bands like The Jesus and Mary Chain and The Cure, bands that front-lined the movement to use heavy filters as a creative element in music.
My favorite song on the album is without a doubt the Bowie-esque ballad "Brother" that embodies his new glam rock persona. The emotion and power behind Way's vocals and the building intensity of the instrumentals overwhelms me with goose bumps and the desire to hug everyone around me.
Though overall I enjoy Way's debut album, I do not love it to the caliber that I love some of his earlier work with My Chem. The album is somewhat all over the place – some songs are slow and steady, whilst others are fast-paced and poppy. I couldn't really label this album with a genre, but I know that I definitely prefer the slower songs like "Action Cat", "No Shows" and "Brother" to the faster, pseudo-pop punk songs like "Zero Zero" and "The Bureau." However, for those that enjoy a hodgepodge of fast and slow, steady and erratic, this album is perfect.