Senior Meeting Details Graduation(s) for the Class of 2020
On Thursday, May 28, Principal Melissa George hosted another senior meeting detailing the events of graduation during the closures of COVID-19. Previously, on May 7, plans had not yet been made; however, now there are set dates for both a virtual graduation and for in-person graduations.
Seniors' last day to submit assignments is May 29, and that is when their final grades lock. This is their official last day of school. Seniors will be able to pick up anything left at the school, as well as return all school-owned items (Chromebooks, textbooks, uniforms), on June 11, from 9 to 3 p.m. A makeup day for this is June 12. If yearbooks are not yet available at this time, they will be able to pick up at graduation. They are sold out and no longer available to order.
If seniors have yet to pick up honor stoles or their cap and gown, they can do so at Jostens on June 1, from 6 to 7:30. Honor stoles and tassels are $20, and honor students are students with a 3.0 or higher. Red stoles will be available at graduation.
"No matter what, you will all have a red stole to wear to graduation," said Principal George in the meeting on Thursday. "And that is our gift to you; you're the very first class that will have the red stole for graduation, so it is something new that you all are starting. "
Kempsville High School is hosting a virtual graduation on June 13, which was the original date for graduation. There will be a message from Kempsville's school board chair, a message from Dr. Aaron Spence, superintendent, and from Principal George, as well as the valedictorian and salutatorian speeches, and a slideshow of the graduates.
All VBCPS high schools will light their fields from June 9 to 13 at 8:20 for 20 minutes and 20 seconds. Kempsville is doing a "final lap" on June 13, where seniors will be able to do a lap when the field is lit. They can enter by the ticket shed by the tennis courts, or the left side of the building. Everyone must stay in their cars and not stop.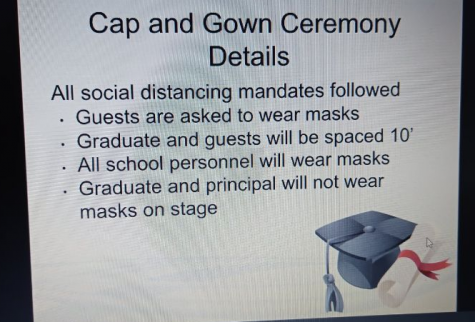 The formal cap and gown ceremony will be June 17-20. It will proceed from 10:30 to 8 p.m., and students will be sent a letter in the mail on June 3 with their assigned time. Principal George also said that she will send out a digital schedule via AlertNow.
Each senior will get a 5-minute slot to walk across the stage in the Kempsville High School auditorium. All social distancing mandates will be followed, and all guests are asked to wear masks; school personnel will be. The graduate and Principal George will not be wearing masks, but will be more than 6 feet apart. The graduating senior will be able to pick-up their diploma cover, and have their name announced, as well as if they are graduating with honors, and they will be declared graduated and have their photo taken by LifeTouch. Afterwards, they may circle back into the school to the front foyer, where they can pick up their diploma.
Prior to the ceremony, participants can enter the parking lot via Chief Trail. They are asked to arrive 20 or 30 minutes before their slot, and will wait in their car – directed by staff – before they can enter the building for their slot. There will be no seating during graduation, but the guests will be standing 10 feet apart. There will be two graduates and their guests at the same time. Guests will be allowed to Zoom or Facetime friends and family that could not attend.
Attire rules remain the same as previous years, and seniors are not allowed to decorate their caps.
"The reason we made that decision [to have both a virtual and physical cap and gown ceremony] was because we wanted to honor the original dates of graduation for the schools, and to be able to have an opportunity for the principal, the superintendent, the valedictorian, salutatorian, to be able to send a message to the graduating class, and to honor them in a variety of ways," said Principal George.
"We know that because there's a change in the graduation date that not everybody's going to be able to make it to the 17th, to the 20th cap and gown ceremony. So, you know, we want to have them be able to experience some form of graduation, and that was our way of doing that, to ensure that they hear what they normally would hear to graduation, that they were declared a graduate at the end of that virtual graduation."
The EBA Senior Ceremony has been postponed; however, EBA students will graduate together, and their graduations have been scheduled for the 19 and 20.
A graduation showcase website will be coming soon, produced by VBCPS. Following the end of submissions of personal slides (seniors who are interested in creating one can find more information here), all seniors will be shared and honored on social media.