ICDC Qualifiers Discuss Feelings on Cancelation
Since freshman year, DECA has become a staple in my high school experience. Nothing could replace the connections I've made or the opportunities DECA gave me. However, the coronavirus pandemic has led to the cancelation of the national DECA tournament (ICDC) in Nashville, Tennessee. 
Being a first time qualifier, I was saddened by the cancelation as it's considered an honor to compete at such a high level. I wanted a chance to prove my skills and meet others with similar goals from around the world. My fellow DECA members felt similarly as ICDC was a milestone many looked forward to.
"I had a feeling we wouldn't be able to go but when I got the news I was still upset," said Bianca Palmer-Scott, DECA District 30 President. "It felt like everything I worked for this year got ripped away and there's nothing I can do about it."
"It was really sad at first, but it is definitely understandable," said Hayden Hall, Kempsville DECA's Vice President of Leadership. "I mainly feel for the seniors and first time qualifiers."
Just as DECA impacted my life, it had held significance for others as well. Senior Timmy Doss only joined this year: "But that doesn't mean I don't cherish the memories and if I had the choice I would have joined sooner if I had known."
"DECA has been one of the most important aspects of my high school experience," said Hall. "I have gotten to travel around the country, meet new people, learn new skills, and it has built my resume significantly."
For some DECA, had even been a constant throughout high school. Palmer-Scott, a member for four years, was deeply connected with the club.
"DECA has built me into the person I am today. Through DECA, I have grown so much by being able to talk to strangers about things I learned about 5 minutes prior. I have gained leadership skills as a chapter officer for the past 3 years that I will use for the rest of my life. Being District President for 2 years has shown me that all I need is a little courage in order to achieve the things I want most in life. DECA was not just some club for me, it became a passion that I will cherish for the rest of my life," said Palmer-Scott.
Palmer-Scott and her partner, Josh McCollum, worked hard in order to qualify for ICDC. Together they taught students about finances, wrote a 20 page report on their findings, and prepared a 15 minute presentation. After working so diligently and being unable to attend ICDC again, Palmer-Scott will miss being able to meet new people from around the world.
Hall, another ICDC veteran, took multiple practice exams and attended category based role play events in preparation for the competition. He will miss forming bonds with others at ICDC.
"Because of last year's ICDC, I have friends and business connections all across the U.S., Canada, and other countries," said Hall.
Seniors were most affected by the cancelation as this was their final year to compete at this level.
"It's a lost opportunity but it's also what life has thrown at us. It's demoralizing and makes it pretty hard to continue working after everything you wanted to do and see was taken away," said Doss. "But we have to move forward."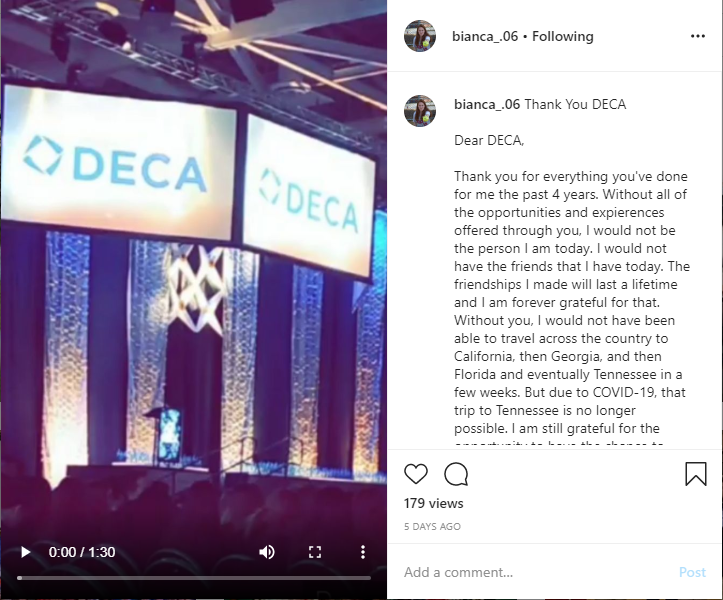 Palmer-Scott was especially heartbroken by the news, even taking to Instagram to post a letter entitled 'Thank You DECA.'
"This was… my final moment in DECA. The moment I have been waiting for since ICDC my freshman year is cancelled and there won't be any chance to make it up. I didn't know that my last competition would have been States," said Palmer-Scott. "I thought I had another few months to enjoy my last year as a DECA member but it has motivated me even more to start a DECA chapter at CNU to keep my DECA dreams alive."
DECA held a place in all of our hearts. Even with the sad news, we continue to look ahead and keep the memories given to us by DECA.
"I know DECA will stay as one of the most important things in my life," wrote Palmer-Scott in her thank you letter to DECA.
About the Writer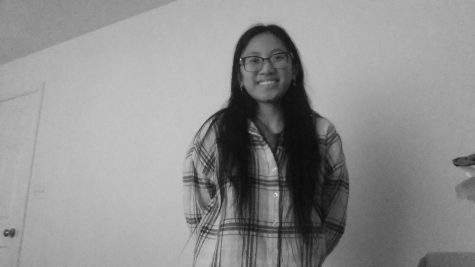 Janelle Camba, Editor in Chief
Janelle Camba is a senior in her second year with the newspaper. She is a member of DECA, FBLA, NHS, and the Interact Club. In her free time, she enjoys...