Emotional Plays Highlight The Night of One Acts
On January 10 and 11 Kempsville's Drama Club put on their annual Night of One Acts, presenting "I Hate Love," "Serial Killer Barbie" and "The Message." Two of the plays performed, "I Hate Love" and "Serial Killer Barbie," were student-directed, with senior Rhianna Rebholz directing the first and junior Emma Staicer the second. The last, "The Message," is their competition piece to be performed at the Annual One-Act Theater Festival. 
Each of the student directors introduced their shows, which dealt with heavy themes.  
"The show I directed is called 'I Hate Love'," said Rebholz, "and it deals [with] the very serious issue of depression and suicide among teenagers. The main character's name is Jo, and she is kind of at a party, almost, for her depression, and she's trying to decide whether or not she should commit suicide, and her emotions – who are the other characters – are trying to convince her to either do it or not do it."
None of the emotions were named during the show, but they were happiness, love, faith, loneliness, pressure, pain and, finally, hope. The performance, which showcased sophomore Jennie Touchton as Jo, dealt very presently with suicide, as Jo has a panic attack, and debates with a blade in her hand.
"Jennie [Touchton] did a really, really awesome job, and there's some things that kind of took a lot of effort, like trying to explain what a panic attack looks like. It's hard because you're not really in the right headspace to be able to understand what's happening, but she handled it really, really well. They all took this very, very seriously, and they were able to make it a safe place and setting to talk about things, and they worked with the show and didn't make it into a joke or something," said Rebholz. "I'm really proud of them."
One of the actors, Sean Kirkpatrick, who played pain, implied that he found acting in "I Hate Love" therapeutic. 
"Before doing the show, with my emotions and splitting it into different personality things – I kinda did that already before, and, just, this helped me get through them, helped me push through being sad or depressed or in pain and stuff like that," Kirkpatrick said. "This really helped me get that out and helped me get sometimes even my anger or, as my character's name implies, pain, out as I am acting as that emotion."  
"There's something to be said about mental health here," said Jason Rebholz, student director Rebholz's father, during the talkback. "I've changed as a person the last 8 to 10 months and being able to communicate something like mental health and … to be able to orchestrate something like that, to be able to get through to communicate something like that in artistic ways, there's a lot to be said about that, and I think there's a lot to be said about that for high schoolers, understanding that and being able to portray that; I think that's extremely important. I think it needs to be supported a lot. Mental health, of course, has been a huge issue in today's society, and I think no one needs to take it for granted."
The next act, "Serial Killer Barbie," presented the extremes a person may go to when they struggle to fit in.
The last act, "The Message," was one that was described as "very interpretative" by Paxton Coley, one of the actors. A prophet comes forward at the beginning and presents a message – a message that has no meaning to the audience, one made up on various letter combinations. When she leaves, the people who heard the message fight over the content and meaning of it, and it turns into a battle over correctness.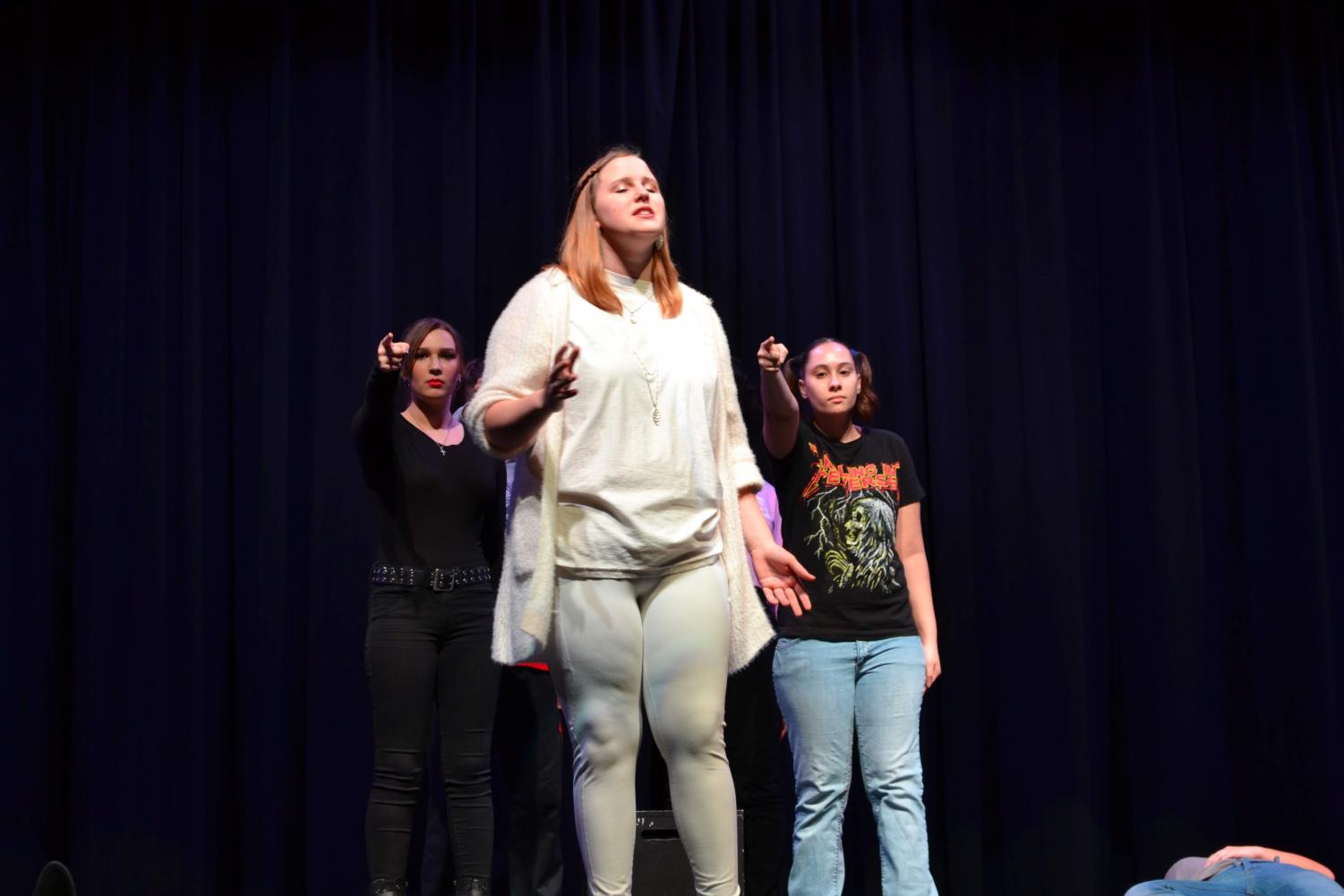 Drama director David Springstead called the piece "interesting." 
"When I read through it, in the script the characters have no names," he explained before the performance Friday night. "They are designated by number. And it's funny because even the numbers are never mentioned during the course of their conversations on stage. You ever play telephone? You know how sometimes by the end it's really screwed up? That's kind of what "The Message" is all about." 
"I…relate the whole thing to my faith," said Coley. "We have the Christian faith, but there's multiple different denominations. We come in and I'm like: "We believe the same meat, but we have different toppings." It's that whole thing, and you guys are like: 'No, you're not supposed to do this; no, you're not supposed to do that. You can do that but like. Wow.' And I just kinda come in, and I'm like, '[You're] right, just get over it and move on with your lives.' And they don't want to hear that because in their minds they're right, and nobody else is."
"I think it kind of relates to a lot of times when people are like: 'My opinion is all that matters, and if you come back at me with a different one, you're wrong, and we can hate each other now,' and really, in the end…I can have mine and you can have yours and we can be friends and move on with our lives. It's that easy. But we make it difficult." 
You can see the drama club perform "The Message" at the Annual One-Act Theater Festival at Salem High School this Saturday at 9 a.m. 
About the Contributor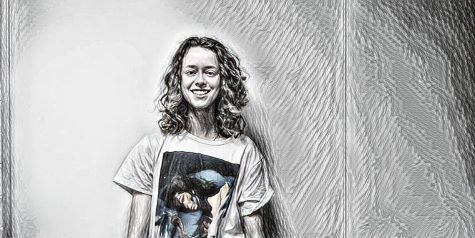 Sydney Haulenbeek, Editor in Chief
Sydney Haulenbeek is a senior and a fourth-year writer for The Treaty. She enjoys researching and analyzing nonsense, wasting time on Twitter, and working...