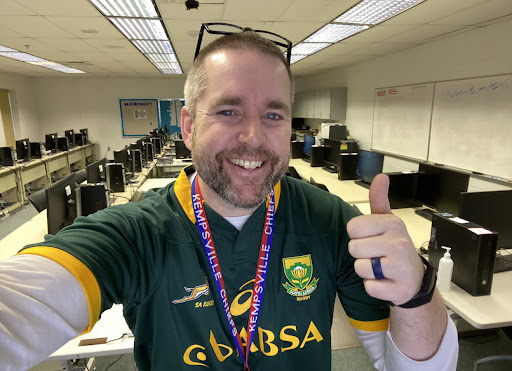 It's not always the case that a relationship with teachers will be formed; it takes both the students and the teachers to be willing to form this bond. It can be found that multiple teachers here at Kempsville fulfill this role, but there is one in particular that has continued to fulfill this for former and current students: Mr. Morris
Mr. Morris has not always been a teacher and his initial plan did not entail where he is today; however, that does not prevent him from conquering the not-easy task.
Prior to his teaching venture he worked in the dental industry, which is predominately different than a teaching role. However, he did not let this lack of experience stop him. During Covid he graduated from Old Dominion University, allowing him to be here today teaching at Kempsville High School. 
Originally, he joined The Entrepreneurship and Business Academy (EBA) as the Accounting and ACIS teacher. After only a year, he was moved into strictly teaching Intro to EBA due to the high student enrollment and need for teachers.
The EBA requires entering students to take an intro class that allows them to gain further knowledge about the academy. With the EBA Intro class, there are many topics the teacher must cover to ensure the students have a complete understanding of the upcoming content for the duration of their academic career. 
Students will leave his class feeling more confident in not just themselves, but finding greater confidence in the next steps for their future. 
The EBA internship teacher Mrs. Routis states, "He exudes not just in his practice and through modeling, but embedding it in the curriculum. So students know what the expectations are, so they have something to strive for."
While Mr. Morris is an EBA teacher, he can also be seen participating in other aspects of the Kempsville community. If that's being the Golf coach, Future Business Leaders of America advisor, or the individual behind running the school store. His open mindedness allows him to enjoy various unique hobbies such as golf, photography, and of course business.  
Having the ability to enjoy different activities and hobbies, and having a career that one enjoys is important, but the most important thing to Mr. Morris is his family. In fact, his family is one of the main reasons he made the decision to move into the teaching field. This job has allowed him to be able to spend more time with his loving wife and son. 
Mr. Given, one of Mr. Morris colleges, stated that "He cares…A LOT." 
Not everyone can say they are happy where they are in their career. Many students are searching for wealth, looking for satisfaction in money. Money is important, but life is so much more than that. Mr. Morris inspires his students to strive for more than the materialistic matters in life, but the true importance of finding contentment that brings the students happiness. 
Mr. Morris stated in his interview, "If you wake up every single day loving what you do, it's not cliché to say that you won't work a day in your life, because there is a lot of truth in it. But you have to find happiness and satisfaction in that otherwise, you can place importance on the wrong things very easily."
He exemplifies what it means to be a teacher. Through his dedication, not to this school, but to his career and what a teacher personally means to him. Mr. Morris' strength, presence, and the heart he has for people shows that he is meant to be where he is.