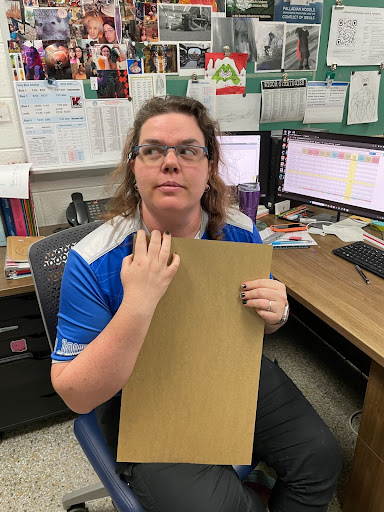 "I love my job," says Mrs. Jones, the technical drawing teacher, expressing that "it makes me happy" and she would love to continue teaching here at Kempsville High School for the years to come. 
Mrs. Jones has been teaching for seventeen years, and has taught at 4 schools throughout her career. She was an art teacher for 12 years before coming to Kempsville, where she is currently in her fifth year of teaching.
She majored in art history, was a Japanese minor, and lived in Japan for her college years. After twelve years of teaching, she decided to add technology to her academic skills since she "wanted to change, which is why I came here," Mrs. Jones expresses that she is "self-taught from the internet," which is how she gained all of her skills to teach Technical Drawing here.
Mr. Shakely, a Kempsville Tech Ed. teacher, said "Mrs. Jones was like my mentor and guided me through how to become a Tech Ed teacher."
He admires the style that Mrs. Jones teaches, stating "It's a style I want to apply to my own classroom." Her teaching style is unique, which lays out all her materials and pre-recording videos on how to use the different programs within the class; this allows her to be more one-on-one with students to help them individually.
She has made a positive impact on students as she enjoys working and helping them. Also, she has mentored and guided Mr. Shakely into where he is today as a Tech Ed teacher. She also runs the Esports club alongside Mr. Fugere, an English teacher here at Kempsville.
Mr. Fugere has admired her ability to make things work; he goes on to say "All of the equipment in her classroom she had bought herself, she just gets things done quickly and effectively." 
"She's able to complete monumental tasks or large projects done quickly and efficiently, which I can admire," he adds.
She puts a tremendous amount of effort into her work and cares for her students. Her presence has been a benefit to Kempsville, and the staff that worked with her have expressed admiration towards her working style and ability to help others. All things considered, she has an important role at Kempsville as a multitude of students have enjoyed taking her classes.
"I love teaching classes with multiple grade levels, I just love teaching here in general," Mrs. Jones claimed.
Mrs. Jones has benefited others, especially with her love of teaching and mentoring. She would love to continue her career as she has a passion for teaching and enjoys working with students. Overall, this is how she helps to create a positive impact on students and staff alike at Kempsville.