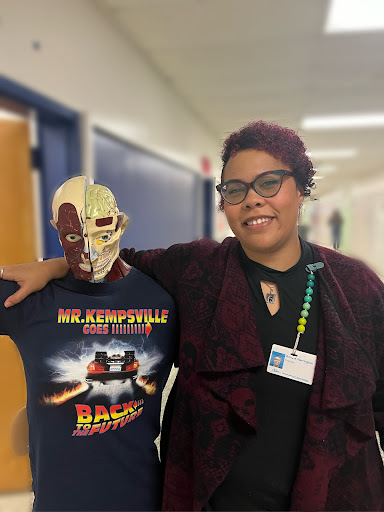 "I actually did get to be what I wanted to be when I grew up," says Dr. Harrington, a biology teacher at Kempsville High School. "When I was a child I wanted to be a tea party scientist. I wanted to do science and have tea parties and I achieved that goal at 30."
Dr. Harrington has been working at Kempsville for several years now and has a Master of Science and Master of Art in Phycology, in addition to a doctorate and PhD in philosophy. She is a third generation educator following in her mother's and grandmother's footsteps.
During the pandemic Dr. Harrington decided to return home to Virginia Beach. At the time there was an opening at Kempsville, she knew the area and a few teachers prior. She decided to give Kempsville a chance, years later she's still educating students on plants, animals and all things living. 
"Dr. Harrington is a person with extreme knowledge," Kempsville Assistant Principal Mr. Petrice, and past science supervisor says. "She pushes the right kind of uncomfortableness." 
Mr. Petrice explains how Dr. Harrington educates him by teaching things he normally wouldn't learn about or make him uncomfortable. 
"She knows I'm not into snakes but she brings them around because there is an education viewpoint. I think understanding that maybe a person is not comfortable with this but how can I get them to be more comfortable with it," Mr. Petrice says.
"I'm still not going in that room,¨ he adds jokingly.
Dr. Harrington brings a unique way of teaching to the science department at Kempsville. She often emphasizes the aspects that her students will have to carry into future education.
"I know exactly what a lot of our student body is walking into when they leave these doors," she says. 
This gives her an advantage to teach a personal outlook and to educate her students on college level aspects.
 "She taught college level courses and has a college level understanding with her PhD so she's gonna teach from that perspective," Physics teacher Mr. Molony adds.
Even though Dr. Harrington has traveled a different route than other teachers, she has found a community at Kempsville.
When asked where Dr. Harrington will be in 10 to 20 years she's unsure although she says, "I like teaching too much to give it up entirely."