History Teacher Makes Return to Face-to-Face Learning Easier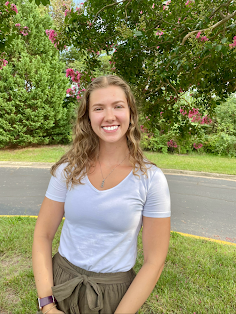 The school year is halfway over, and students are finally settled in after a previous year of hybrid learning, and one history teacher has made that shift a million times easier for her students, and continues to make her classroom a fun learning experience for all of them. 
Ashley Craddock is a Virginia United States History and Government teacher at Kempsville High School.
Ms. Craddock studied at James Madison University and originally majored in International Affairs, but later on decided that she wanted to actually teach history instead. She ended up graduating with a master's degree in Arts in Teaching and also received her undergraduate degree in Political Science. 
During her years in high school and college, Ms. Craddock was a part of sports, such as softball, and other physical extracurricular activities, like color guard, since sports and other athletic activities are something that she has always been interested in. 
Ms. Craddock talks about her dream of creating a program for students to become more involved and have a better understanding of the importance of nutrition and physical activity. 
"I would love to create some kind of program that kids could do after school that involves the nutritional and physical aspects of exercise," Ms. Craddock explains. "There's research behind physical activity and how it correlates with performance in school, so I'd love to be able to spend more time doing that."
Ms. Craddock also stated that she is interested in possibly assistant coaching a sport in the future.
One unique thing about Ms. Craddock is that she knows what it was like to be a student during the early days of the coronavirus pandemic. March 2020 was her senior year of college, and as most high school and college seniors across the world remember, there were a lot of disappointing moments during that time. 
"We went on spring break, and we never went back to school, and that was hard," Ms. Craddock explains. 
Ms. Craddock was also working a job at the time, so her place of work shut down with everything else as well. She was also devastated to not be able to have a graduation ceremony. 
"In terms of emotions during that time, emotions were high," she says.
Though many heartbreaking moments from the early days of the pandemic are remembered, Ms. Craddock believes that they helped her become a better teacher because she was able to sympathize and relate with her students, knowing that they were in the same situation as she was.
"I do think that [online teaching] helped me prepare for this year since my students and I both came from that online school experience, so I feel like I can relate better to how my students feel about the shift from online learning to face-to-face learning since I experienced it as a student as well," Ms. Craddock said.
She also explains how her experience has given her a different perspective on teaching together. 
This year, Ms. Craddock has definitely had a positive impact on students, as many of her students speak very highly of her and how she makes them feel comfortable and understood during class, and they always express how engaged they are during class discussions. 
Ms. Craddock's Virginia United States History students had nothing but positive words to say about her.
Junior Judith Maxwell says, jokingly, "[Ms. Craddock] is one of the only teachers I take my headphones out for." "It's beautiful the way that she cares about what she's teaching us and the fact that she always tries to relate the topics to things we may have experienced in our own lives is just so beautiful to me," said Maxwell. 
Junior Bethzy Tinoco also talks about how Ms. Craddock is "extremely respectful" and how you can tell that "she actually cares about and loves what she is doing."
"Ms. Craddock always sets aside time before class to discuss how we are really doing in and out of school, to get us ready for class but also to genuinely see how we are doing," Tinoco said. 
Ms. Craddock's government students also had nothing but great things to say about her.
"Ms. Craddock is a very active and engaging teacher who always keeps up with her students and makes sure that class is always light and fun." Senior Jolie Steinbaugh says. 
So far, Ms. Craddock has had an incredibly exciting and productive first year here at Kempsville, has positively affected all of her students, and continues to be an amazing influence on Kempsville students.