Black Student Union Hosts Leadership Lock-In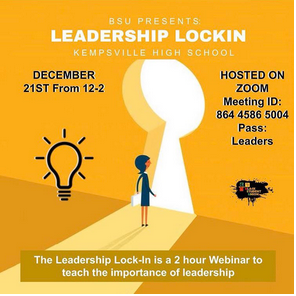 During these unprecedented times, some students have forgotten what it means to be a leader. However, the Black Student Union believes that good leadership is more important now than ever. In order to promote this idea, the organization hosted a Leadership Lock-in.
The Leadership Lock-In was a two-hour virtual seminar held over Zoom on December 21, 2020. Student speakers led conversations on topics such as what makes a good leader, how to find the leader within yourself, and many other topics that brewed an open discussion with the attendees.
"We were talking about our masterclass… and our advisor was talking about how she [had] heard that some schools were doing a thing called a leadership lock-in," said junior Julatte Hillman, one of the coordinators of the lock-in. "She was explaining the whole idea and the concept… and we decided we wanted to do it as an event."
Leadership plays a big role in the Black Student Union's mission. The organization wants to advocate that no matter who you are, or where you came from, you can be a leader.
"In the beginning stages of [the] Black Student Union, our whole mission was to promote leadership and representation for black students, so the leadership role really made our whole mission. We're a group of leaders that not only try to promote leadership, but also that no matter where you come from, this is who you are and you've got to embrace who you are," said junior Carrington Smith, the president of the Black Student Union.
The pandemic has shown people all around the world what both good and bad leadership can do. The Black Student Union hopes to inspire people to keep trying to be a good leader in spite of the world's current situation.
"Leadership looks a lot different now because of COVID-19 in general, so I think [the Lock-In] kind of helped people know that even though things change, we can still make it to that end goal. We can still pivot and find other ways to be a leader, even if it's not the leader we imagined," said Hillman.
The Black Student Union hopes that students will learn to take the lead in new situations because the world can never have too many leaders.
"If we didn't have people to step up and make certain decisions and take charge, this world would be chaotic. Basically, the world runs on leaders; our teachers are leaders, our parents are leaders, our doctors, our firefighters. The world literally runs on leadership. So, it's very important to be a good leader so that we can make sure that our world is being run smoothly," said Hillman.