Student Receives a Letter of Commendation from the National Merit Scholarship Program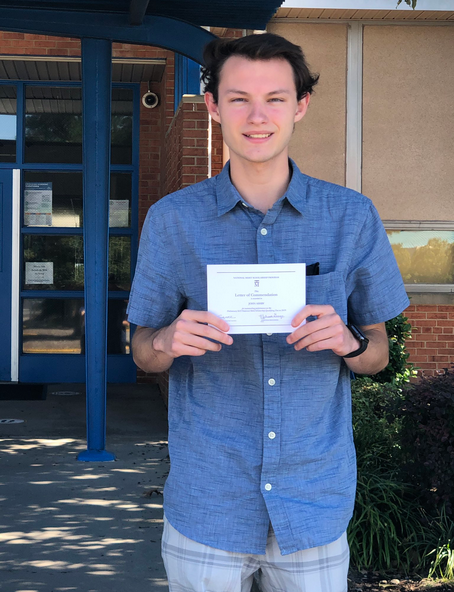 JT Ashby, a senior, was awarded a letter of commendation for the National Merit Scholarship after scoring in the 1400s during the PSAT last year.
The National Merit Scholarship Program is essentially an academic competition that recognizes students who take and score well on the Preliminary SAT/National Merit Scholarship Qualifying Test (PSAT/NMSQT) and provides them scholarships. Juniors wanting to participate in the 2022 program should take the PSAT or the NMSQT in October 2020 and January 2021. It is to be noted that PSAT 8/9 and PSAT 10 are not considered for entry.
In late September, about 34,000 of the approximately 50,000 student scorers received the Letter of Commendation. According to the National Merit Scholarship Corporation, "Commended Students are named based on a nationally applied Selection Index score that may vary from year to year and is typically below the level required for participants to be named Semifinalists in their respective states. Although Commended Students do not continue in the competition for National Merit Scholarships, some of these students do become candidates for Special Scholarships sponsored by corporations and businesses."
For semifinalists, about 16,00 students of the 50,000 scorers were notified in early September that they qualified. "Semifinalists are designated on a state-representational basis. Semifinalists are the highest scoring entrants in each state. Qualifying scores vary from state to state and from year to year, but the scores of all Semifinalists are extremely high. NMSC provides scholarship application materials to Semifinalists through their high schools," says the National Merit website.
In order for semifinalists to advance to finalists, they must meet high academic standards and other requirements that are explained in the information they are provided.
In February, some 15,000 students will be notified about their advancement to finals. The principal of the school that the student attends is also notified and provides the student a Certificate of Merit. "All winners of Merit Scholarship awards (Merit Scholar® designees) are chosen from the Finalist group based on their abilities, skills, and accomplishments—without regard to gender, race, ethnic origin, or religious preference," says the National Merit.
The finalist's academic record, the school's curriculum and grading system, PSAT/NMSQT Selection Index Score, the school's written recommendation, information about the student's leadership/activities, and their own essay is reviewed
In regards to test taking, Ashby says, "I usually try to sleep well before a test, but I am not the most conventional test taker in the fact that I don't tend to study for them. I don't usually get nervous before tests. I think that it's better to take them when you aren't nervous because you'll think better. Also, just knowing that it's not the end of the world if you don't do well and it doesn't define you."
Although each student is different, it is recommended to prepare for any quiz/test by studying the material, asking questions, sleeping well the night before, eating a full breakfast, and preparing mentally for their test.
"On an encouraging note, I'd just like to note that even though I don't tend to study, that doesn't mean that everybody is like that, and I truly admire those that take the time to study to get good grades," reminds Ashby.