AP Trail Blazers: First Group of Students Complete the AP Capstone Program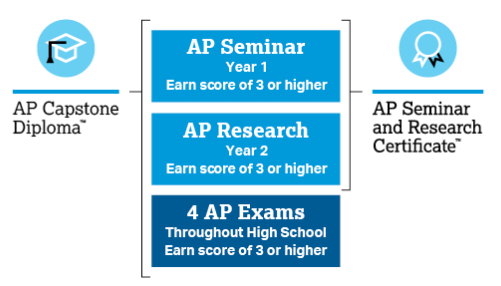 At this time, many students are completing their last assignments and submitting their final works as the school year comes to a close. From regular students aiming to turn in their work on time in an effort to pass their respective grade, to seniors preparing to graduate, students are doing their best to wrap up the school year successfully.
Additionally, 2020 has been a time of many firsts for students, teachers, staff, and parents alike. Teachers have had to find new ways to work with their students online, students are having to complete school from home, and Seniors are taking part in a graduation ceremony unlike any other. Among all of these achievements, there is also another first to be added to this school year.
This year will produce the first batch of students to participate in and graduate from the AP Capstone program recently offered at Kempsville. AP Capstone is a program that consists of AP Seminar and AP Research, both classes being full year courses. Students that graduate from the program receive an AP Seminar and Research Certificate, or if they have passed an additional 4 AP exams, a AP Capstone Diploma.
Two teachers are in charge of teaching the courses.
"AP Capstone is a two year skill-based program consisting of AP Seminar (usually taken Junior year) and AP Research (taken senior year). I'm certified to teach both courses. Last year I co-taught AP Seminar with Mr. Cinnamond, and this year I taught AP Research," Claudia Ockert, Honors English 10 and AP Research teacher, said.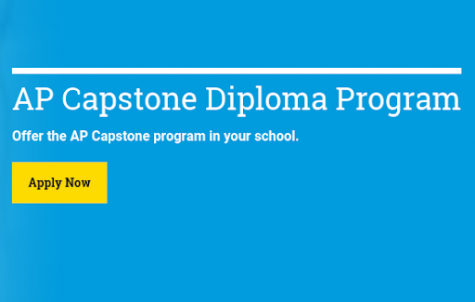 With the two classes making up the program, each course provides different skills and materials that will help students prepare for college.
John Cinnamond, Social Studies and AP Seminar teacher, describes his course as "Learning how to create and improve research paper writing skills, critical thinking skills, research skills, presentation skills and ability to analyze topics and research materials."
According to Ockert, AP Research allows students to choose any topic of their interest and construct a five part research paper followed by a presentation.
"The paper is a full-blown research paper that includes an abstract, an introduction to their topic that also discusses the value of their research, a literature review where they write about the background research that they did, the methods section, where they write about which method they used to conduct their research, and why that was the best method to use to get the information they were looking for, the results section, where they report the results of their research, the discussion section where they discuss the results [if they were what they expected, or weren't and why, etc.] and then they end with a conclusion where they discuss future directions their research can take." Ockert said. Once the paper is complete, students then turn their focus towards preparing presentations.
"When they're finished with the paper, they deliver their research findings in a 15-20 minute presentation that also includes an oral defense, where they have to answer three questions from a panel about their research. "
When the AP Capstone program was introduced, both teachers were eager to help teach these courses in an effort to provide students with knowledge they found essential for college.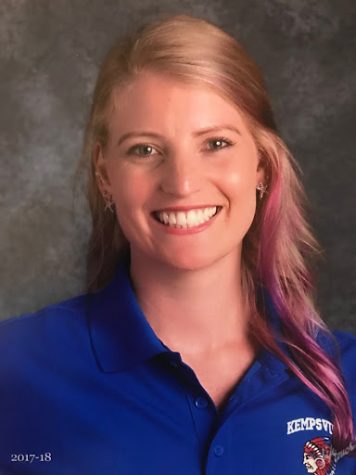 "I wanted to be a part of it because I believe in the value this class has. I believe that the skills students learn in completing this process are some of the best that can prepare them for college. Most AP courses are knowledge-based where a student has to know certain information to pass a test at the end of the year. This course is about being able to DO something that can be replicated no matter what subject or topic. This process is also something that students will have to do in college in many different classes, and being able to write about what you've learned and also speak about your work and defend it, is incredibly valuable," Ockert said.
"This was a course that had been taught at other schools in Virginia Beach and across the country. So, Mrs. George wanted to bring it to KHS and I inquired about teaching it. I started to research the course and found it to be a very interesting course that will teach students some great skills they will definitely need for college – and by the way, they can earn AP credits in the process," Cinnamond said.
However, given the current situation of school being closed during the school year, the teachers feel that their respective courses were affected in different ways.
Cinnamond felt that the closure of school negatively affected his class' progression in the course.
"It is a very self-paced course, the students have to do a lot of work in the class with other students in the class. So, not having that available and me sitting over them keeping them on task and turning work in. As a result I think it may have made this course harder," Cinnamond said.
"The course has guidelines that limit how much teachers are allowed to do when students start the assignments for their Digital Portfolio. Because of that a lot of the lessons I do are based on the interactions with the students in class and at the moment discussion and doing that online is very hard. Also, keeping everyone on task is very difficult because I have very limited options to keep them on task."
However, Ockert felt the cancellation didn't affect her course as badly.
"Luckily, the way the timeline worked, the students were already done with their papers. The only part we had left was the peer review at the end. They were able to do this virtually. The College Board decided though that they would cancel the presentation part of the score, so this group of students did not have to do the presentation," Ockert said.
Despite that her course hasn't been majorly impacted, Ockert and her class have still been met with difficulty with continuing the course.
"I know it definitely would have gone much smoother if we had been in school and we were able to sit in class together to get the work done. With everyone's schedules being so different now and having to rely on each other for feedback, it was difficult."
Regardless of the circumstances, the teachers are still trying their best to stay connected and work with students.
"Yes, we've had Zoom meetings and Remind conversations, but again, the only thing they had to do was peer-review each others' papers," Ockert said.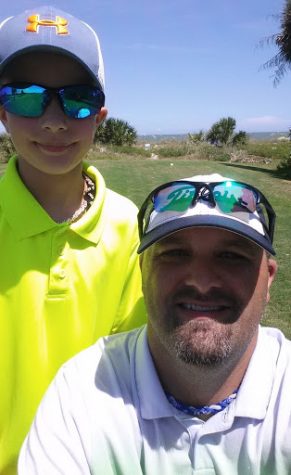 "We have had Zoom Meetings, as much as possible so I could answer questions. The work I posted on Schoology was based around them doing the things they need to do to complete the work for their AP Digital Portfolio. In doing that I could only give limited comments because of the guidelines the course has in place and how much I can do for the students," Cinnamond said.
As the teachers continue to teach these courses, they are still working to perfect their classes and make improvements.
"I would have liked for the College Board to step in and change some of the guidelines around the course. If I could have had more hands on with students' work and could have changed around some ways College Board did the submission process," Cinnamond said as he explained some aspects he would have liked to turn out differently. However, Cinnamond also has some improvements of his own he'd like to make.
"I would like to do more with the writing skills of the students. Because of the time limits and when guidelines of the course it makes it very hard to get everything in on time. I am thinking about how to get more sample writing done in a short window."
Ockert also has improvements of her own she'd like to make.
"As teachers we always adjust from year to year to make our courses better, so I will definitely be tweaking some parts here and there, but overall, I'm proud of the work the students have done."
Although some changes could be made, there have been other aspects of the courses that the teachers have been pleased about thus far.
"I think this year the group presentations and how the class worked in their teams was much easier than the year before because I know what worked better than other things did,"  Cinnamond said.
"I've taught almost all of the students in this class for the last three years, so it was a really close-knit group, which I enjoyed," Ockert said.
Overall, it seems that both teachers have faith in the AP Capstone program and are proud of the students having partaken in this journey with them.
"I am proud of how they stayed the course and got the work done. This is definitely not the way this course was supposed to go but they did their best with the situation. I do wish they could have done their presentations live," Cinnamond said.
"I'm incredibly proud of them for taking a chance and being the trailblazers of AP Capstone at Kempsville High School," said Ockert.