How KHS is Engaging Students in Quarantine
In the midst of quarantine and school closure, Kempsville High School's staff has had to get creative in order to be as engaging as possible to students. From participating in Zoom calls, to posting encouraging videos, to even showing up at Jostens to help hand out caps and gowns, Kempsville has gone above and beyond in an attempt to encourage and support students during this less than ideal time.
"For engaging as a school, I think the teachers and staff are making sure us students know we can go to our teachers," said senior Gabby Reeners. "We have Zoom calls and we're able to see classmates and able to not only speak to our teachers about school, but also our daily lives."
Reeners described, specifically, her experience in being a part of band teacher Brian Webb's class.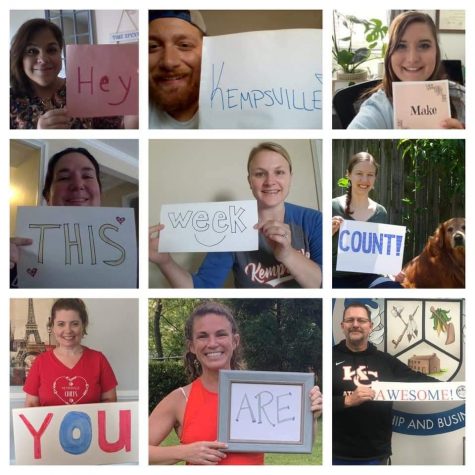 "Mr. Webb, for one, has had weekly Google meets for us to come and join. He goes over the week's assignment, asking if we have any questions. He also allows us to mingle with our classmates, along with him, and I think that helps make things more engaging as a whole."
On Friday, May 15, at the Jostens cap and gown pick-up, much of the KHS staff showed up, staying at reasonable distances, to hype up and congratulate the seniors who had worked so hard for so many years. Alongside the cap and gowns, every student received a free bluetooth speaker and a yard sign, even if they had not previously ordered one. Kempsville had the largest staff turnout and support for this event.
Other than Zoom calls and senior events, the staff has remained rather active on various social media platforms, sharing encouraging photos and videos. They have also recognized seniors graduating from the academy.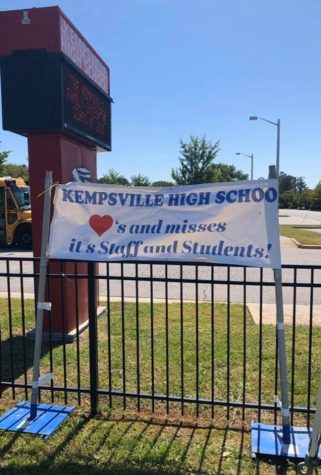 The SCA has also remained active on Instagram by posting appreciation to administration and teachers and creating Instagram story games for students to fill out and have fun with.
During this time of uncertainty and hardship for many, Kempsville has done all it can to keep students informed and motivated to finish the year strong.