Seniors Share Final Memories of Their High School Experience
Amidst the rollercoaster of news regarding school closures, seniors have been coping in different ways. While some move closer to acceptance, others are still processing what this means for their futures. Many have taken to social media to express their feelings on the matter.
Rhianna Rebholz dug through her camera album to share some treasured memories with her followers. Each picture showed a glimpse into her high school experience, from painting a parking space to attending the homecoming dance. While the photos depict grand stories, Rebholz kept her caption simple.
"And just like that it's over," she said. "I wasn't done yet. Make the most of high school before it's gone. Make it up to us."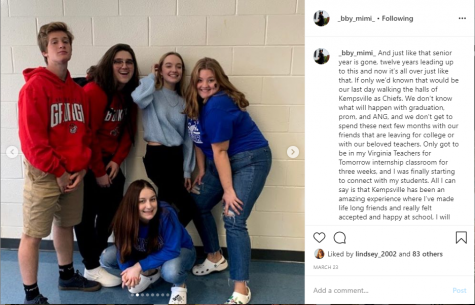 Mia Martin reflected on missed opportunities and the connections she could've made with students in her Virginia Teachers for Tomorrow internship program. However, even in her sadness, Martin ended her caption with positivity.
"All I can say is that Kempsville has been an amazing experience where I've made life long friends and really felt accepted and happy at school," said Martin.
Others reminisced on the activities and extracurriculars that would be missed. Bianca Palmer-Scott posted a video composed of her memories made with DECA. As both a DECA Chapter Officer and DECA District 30 President, Palmer-Scott felt especially attached to the club and wrote a heartfelt letter to DECA in the post's caption. She thanked the organization for shaping an ideal part of her character.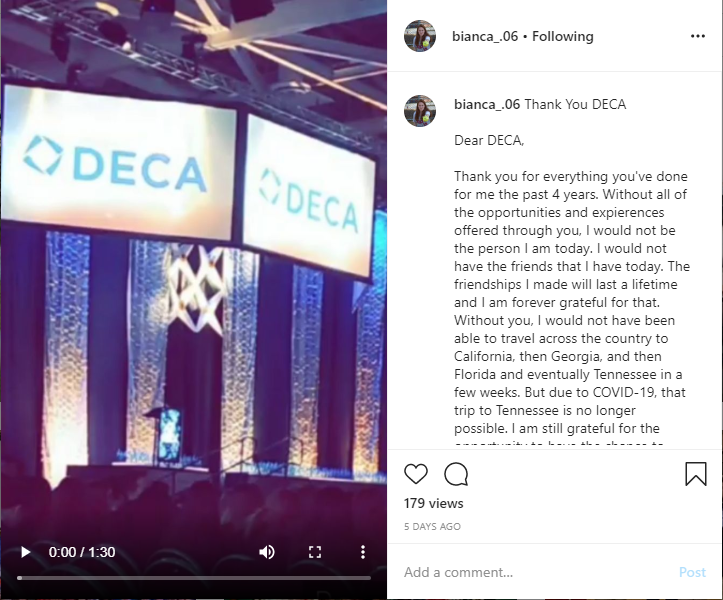 "Thank you [DECA] for everything you've done for me the past 4 years," said Palmer-Scott. "Without all of the opportunities and experiences offered through you, I would not be the person I am today."
Even miles apart, seniors have united through social media to celebrate the good times spent at Kempsville High School and look back on the memories that were cut short.