School Closure Devastates Student Body

On March 23 Governor Ralph Northam announced a groundbreaking change that made students' hearts drop: all Virginia schools would be closed for the rest of the academic year. After a mere week in quarantine, students had already expressed their boredom, looking forward to their return to Kempsville High School. However, it seems many will have to wait longer than expected, and others may not even get the chance.
With the recent outbreak of the Coronavirus (COVID-19), it was clear a strict decision had to be made, but few predicted this course of action. Despite teenagers' notorious penchant for not wanting to go to school, many were saddened by the announcement.
"I was really upset and disappointed because I was honestly looking forward to going back," said Doriana Quintana Torres, a junior. "I also was very sad because this meant that the musical we were working on was over, and I wanted to perform it and show the public our hard work."
The theatre department isn't the only group put in a bad position. Seniors have expressed their sadness over losing such big milestones in their final year at Kempsville High School. Katherine Louise Guevara, a senior, became upset that she'd miss out on: "prom, graduation, and other senior events."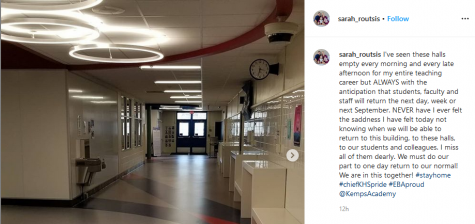 This change also affects juniors as the writing SOL, a graduation requirement, has been pushed back. College preparation tests, such as the AP exams and SATs, have been postponed or changed into formats drastically differing from what students were preparing for.
Abbigail Colburn, a junior, is concerned on how this will affect her future.
"Junior year is the most important year of high school when it comes to college applications and acceptance," she said, "so I'm definitely a little worried about how a third of my junior year being taken is going to affect my plans for college."
The school closure struck a chord with students, many regretting taking their education for granted. Others reflected on what they missed since their departure.
"I miss staying at the library during lunch time, talking to teachers and other students, and having rehearsals after school for the musical," said Louise Guevara.
"Without thinking, I can say that I miss lunch with my best friends the most," said Colburn. "The
memories I've made…is definitely what I miss most about school."
Quintana Torres reflected back on what she would've done had she known March 13 was her last day at Kempsville High School as a junior.
"I would've said goodbye to all my senior friends because I'm not sure when I will ever see them again."
Now, students work to adjust to virtual learning. Many teachers have tried their best to continue on as normal and resort to conference calls or online assignments.
However, some students find this new teaching style hard to keep up with.
Autumn Tyson, a sophomore, said: "Personally I am a very big 'hands on' learner and I find the social distancing hard because I can't have that interaction with people while I learn."
Quintana Torres is trying to keep things as normal as possible in terms of learning and social life despite the challenges of being quarantined.
"We will recover from it," she said, "but it just takes time."
About the Writer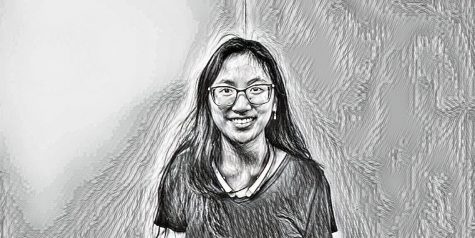 Janelle Camba, Editorial Assistant
Janelle Camba is a junior in her first year with the newspaper. She is a member of DECA, FBLA, NHS, and the Interact Club. In her free time, she enjoys...