GSA Plants Tulips in the Courtyard
Kempsville's Gay-Straight Alliance, GSA, sponsored by Mr. Philip Strickland and Ms. Winona Davis, planted tulip bulbs on Wednesday, January 8, with the goal of bringing more greenery to the courtyard. 
"I wanted to bring some color to the courtyard. My room is on the courtyard, I look out, and this time of year, there's no green," says Strickland. 
James Hanan, co-president of the GSA, says: "It's not just for the courtyard; it's for the teachers too… I wanted to make it so that maybe they can look outside and see a bit of beauty."
Students came together to interact with each other while also connecting with the environment. Tulip bulbs were planted under the windows of classrooms that face the courtyard, set to bloom in the spring. 
Davis says that her favorite part of the tulip planting was "when you start realizing that this is actually something that's living, and it's going to grow, and you're going to see it… Just knowing that you'd be able to look out the window in a few months and go 'hey, we did that.'"
The planting project was not only a source of pride for the students involved but also a way for students to connect with their community and learn about taking part in caring for their community.
The GSA meets on the first and third Monday of every month in room 106 during lunch, as well as the first and third Wednesday of every month in room 106 after school.
About the Contributor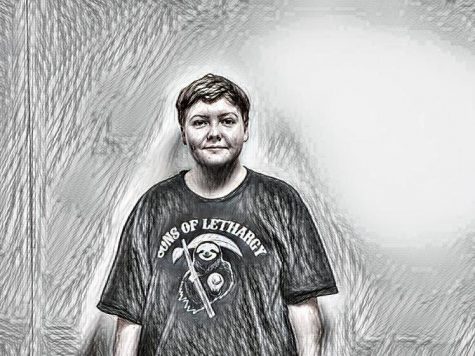 Jack Shupe, Staff Writer
My name is Jack Shupe. I am in the 10th grade and school is very important to me. My favorite classes are math and science but I am also very creative....