KHS Marching Band Performs "Balance" at Varsity Football Games
KHS's marching band plays at varsity home football games on Friday nights. On September 13, they performed in front of an audience for their second performance this school year. Between plays, throughout the game, the band played pep tunes such as "Texas," "Land of 1000 Dances," "The Horse," "Vehicle," and "Tomahawk. During halftime, however, is when the real show, called "Balance," began.
The band presented "Symmetry," "Harmony," and "Equality" for their halftime show, a performance that included balancing props, such as wedges, balance beams, and ramps.  
Mr. Webb, the band teacher and director, said, "When the show was created, about 10 years ago, the name "Balance" was trying to balance between things in life and trying to balance musicality. I guess it's more about balance in life than anything else. The people in band and what abilities they have that are unique, inspired "Balance." Every band is different, so we took a lot of time to figure out what music would be appropriate for the ability level as well as interest level. As it made sense to us as the staff, we wanted to do something that made sense to everybody," he said. "For the upcoming competitions, I hope to get better at each one. I'd like to win a competition." 
Kayla Bullard, a junior, plays the alto saxophone and said that "While I'm a part of the band, it is also a part of me."
She practices eight hours a week with the band, and despite racking up hours of practice, she enjoys being a part of something outside of herself and feels as if they're a family.
Catherine Sullivan, Gabby Reeners, and Ryin Ahlers – all senior marching band members – agreed that they experienced teamwork, friendship, group dynamics, and the joy of achieving something together as they grew together when they participated in marching band. 
Mr. Sullivan, the father of Catherine Sullivan and a band parent of many years, spoke about the performance, saying, "A lot of time goes into [marching band performances], but it's also exciting and great to see the kids put on an excellent show." 
About the Contributor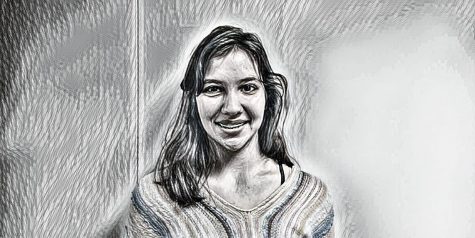 Cate Benedict, Staff Writer
Hello, my name is Cate Benedict, and I'm a junior. I like to watch Big Mouth.