Drama Concludes the Season with 'Little Women'
On Friday, March 29, 2019,  KHS drama department presented their last performance of the 2018-2019 school year with the musical 'Little Women.' Unlike their past performances this year, which all were all set in the 21st century, Little Women was set in the late 1800s.
However, Chavito Allen, freshman, still felt that the story – although not set in the present day – is relevant to students.
"Any story, no matter what time frame, no matter what era it's in, can establish its relevance through the actor's expression," said Chavito Allen, who played Laurie and Rodrigo. "If the actor is able to portray a message that is applicable to every single era that we have it does not matter what time frame it's in."
"For example, with Little Women, you see Jo. You see all her losses, you see how she feels like everybody is running ahead of her and how she's being pushed back. You just see that tone of loneliness, and you can see that throughout our world today. There are many lonely people. There are lonely people in this high school. It's everywhere. There's always a message that can be portrayed."  
But for Denise Burford, who played Marmee, Jo's mother, there was a different struggle than adjusting to period differences.  
"I've never played as an adult before," Burford said. "I've always played as a teen. As a teen, it is how I am now as a person, so you could say that's it's easier to play a teen than an adult that has four children. I don't have childbearing hips! It was different because I'm not in that time of my life."
During this musical, Jo, who was played by junior Paxton Coley, puppeteered characters from her childhood dramas into her adult life. Nicole Smallman, who played Clarissa, the protagonist of these mini-dramas, said that he thought it was an enjoyable role and that he found it interesting to see the depiction of Jo's imagination.
"It was a fun role! I think it was cool because… it showed [where] her thoughts were going, and that she could make it thinking in her own way," Smallman said.  
The play brought to an end six weeks of practice for the students, practice which was met with difficulty in illness, stage complications, and cast changes, said David Springstead in the director's notes.
"I think that there's room for progression," said Allen. "I think there's always room for improvement for any actor who does any role. I hope I did good, but it's just those sudden movements, those sudden actions that really make those characters step up to the occasion and execute the story."
However, he was content with the final result.
"I'm so happy with the play," Allen said. "The characters that we have up there, the personalities that we have – everybody is supportive of each other, we try to get everybody where they're supposed to be – it's a family. And I'm very happy I was [chosen] to help."
About the Contributor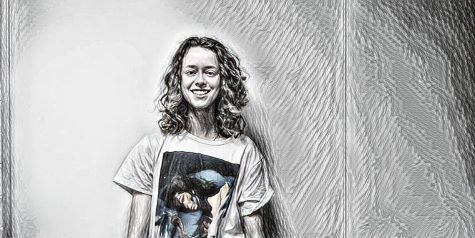 Sydney Haulenbeek, Editor in Chief
Sydney Haulenbeek is a senior and a fourth-year writer for The Treaty. She enjoys researching and analyzing nonsense, wasting time on Twitter, and working...