KHS' Girls Varsity Basketball Team Scores Wins in Major Tournament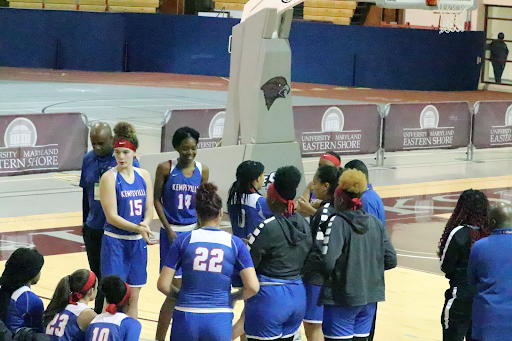 Over winter break, Kempsville's girls varsity team traveled to Maryland and played at the Governor's Challenge Tournament, the largest holiday basketball tournament in the country. During this tournament they racked up wins, beating Riverdale Baptist 66 – 45 and St. Andrew's Episcopal 53 – 40.
During their games, the Chiefs played team basketball, passing and cutting towards the baskets at will. The inside play from center Kylie Hudson and penetration from guards Tahje Perkins and Malia McCoy opened the court up for shooters such as Cate Carlson to knock down open three-point shots.
"We are a great team, and we all get along and enjoy playing together," said forward Zoe Knight. "We have a chance to go places if we continue to work in practice and come ready to play."
They will play more high ranking teams in the region in the up-and-coming weeks such as Ocean Lakes High School (OLHS) on January 18, and Princess Anne High School (PAHS) on the 25th.
Coach Moore anticipates these to be difficult games, with Princess Anne being the hardest team they will face this season, as they are currently ranked first in the state for girls varsity basketball and have had multiple state and regional title runs in the past 10 years.
However, PAHS has an 11-1 winning season, while KHS Girls' Varsity currently has a perfect record of 9-0.
About the Contributor
Aaron Thomas, Sports Writer
Hi, I'm Aaron and here's a little about myself. I love sports, to me, it's one of few things that brings me together with people. My favorite sport...