Actors Take the Stage in "You Can't Take It with You!"
A playful, teasing woman named Essie dances clumsily a few feet to the tune of Beethoven (which her husband, Ed, had proudly declared was a sound of his own creation), as her mother Penny sat nearby, chattering on about the play she was currently writing. The maid, Rheba, fiddled with a duster nearby, and the father of the household stomped up out of the cellar after messing around with fireworks of his creation.
This is the setting of one of the beginning scenes of Kempsville High School's very own production of  "You Can't Take It with You" by George S. Kaufman and Moss Hart, on its premiering day, Thursday, November 16, 2017. The premiere also happened to land Kaufman's birthday, which the director, Deborah Smith proudly announced before the play began.
The show continued and held evening performances all the way through the weekend, with their final performance on the afternoon of Sunday the 19th.
It was a comedic act in 3 parts (with small touches of romance between the characters Alice and Tony, played by Brianna Jones and Chance Watson), and had a cast full of students, serving not only acting and technical positions, but all the way up to assistant manager.
"We really want everyone to see what amazing talents everyone in drama club has. Not a lot of people appreciate us and what we do, but we do some really amazing stuff here, and we want everyone to see that, not just drama kids," said Trinity Jeffries, who was acting assistant manager at the time of the play.
It was a splendid production, with an elaborate 3D set, and well-prepared actors. Only once or twice did actors trip over lines, which was impressive, as actor Elaina Augustus (A lead actor, who played Penelope 'Penny' Sycamore) said that she had 264 lines to memorize. When asked if she felt prepared she replied, "I do! I've memorized them all."
But the show didn't end there. It took nearly 30 people to get the play to the impressive appearance that it was, and that wasn't only people who were front and foremost. There were many technical assistants or 'techies' who made sure that the play flowed smoothly behind the scenes, and every actor poured at least 6 hours into set building and decorating. The show was a labor of love, and it showed through in the set and the actor's performances.
It seemed that the drama kids weren't the only ones who think that the play rolled smoothly. Their director, Deborah Smith, said much the same.
"They did a great job; that was a lot of work!" she said, in an interview succeeding the first performance, proving, that while the IRS agent couldn't take Grandpa's tax returns, the Kempsville High School students sure could take the stage. 
About the Writer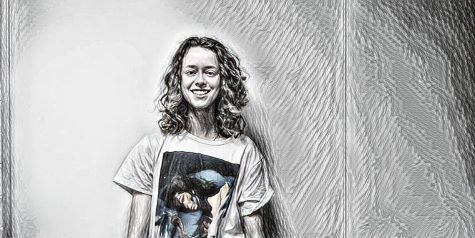 Sydney Haulenbeek, Editor in Chief
Sydney Haulenbeek is a senior and a fourth-year writer for The Treaty. She enjoys researching and analyzing nonsense, wasting time on Twitter, and working...