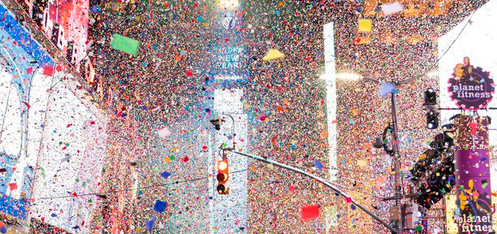 Photo by Ben Hider/Invision/AP
2020 did not end how anyone planned, with the school year starting off virtually and new challenges that never seem to stop emerging. Contrary to the dismal state of affairs from the past few months of 2020, hopes for the new year of 2021 are looking up according to Kempsville's students.
Jolie Hixson, a junior, said, "I want to try and motivate myself and challenge myself more."
Many students agree, all wishing to boost their intrinsic motivation for the upcoming year, with hopes of high PSAT/SAT scores, AP exam scores, and grades. Alyzabeth Bridgham, a junior, is another student optimistic about working hard this year.
"My… New Year resolution is to stop procrastinating and create a schedule to follow in order to stay on track," said Bridgham.
Along these same lines of academic excellence, Junior Samantha Walker shared her goal for 2021: "get all A's for the rest of the year."
Mary Casper has similar aspirations, aiming to "keep my straight A streak going."
Even with 2020's infamous COVID-19 pandemic having a big impact on the academic and social aspects of teen life, many of Kempsville High School's students are still optimistic with hopes of returning to some form of normalcy.
"I hope that we can get numbers for cases down to keep people healthy and try to make the best out of what we have," Hixson stated.
Bridgham noted several activities she hopes students will get to participate in before the year is over, including painting a parking spot, senior assassin, prom, and graduation.
"I hope that by the end of this year that things will be semi-normal again," she said.
Casper, SCA Vice President, also revealed her thoughts on classroom positivity.
"I plan on making the best out of the year just by participating, talking during Zoom [classes], and having my camera on," said Casper.
Sydney Alphin, a junior, had similar feelings.
"Other than try my best to stay on top of all my work… I'm just going to try and participate as much as I can in class and after-school activities in order to make my high school experience at home as normal," said Alphin.
Walker continues to remain optimistic for the future.
"I am still going to go into the rest of the school year with positive thoughts and just hope that COVID-19 will be gone soon so that we can all go back to normal," said Walker.