Making Room for Social Distancing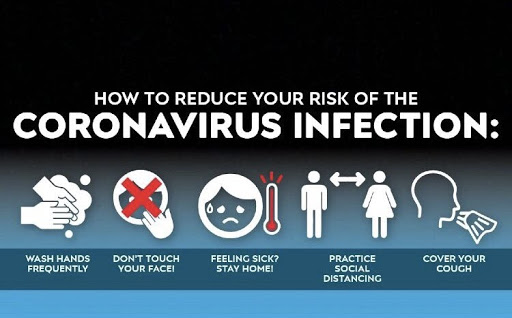 Social distancing is being seen in many ways throughout the world. Whether it be the prevention of handshaking, or the cancellation of schools, the increase of space between others can help to reduce the spread of COVID-19.
On Sunday, March 15, the Center for Disease Control (CDC) endorsed the concept of social distancing. Their website says, "large events and mass gatherings can contribute to the spread of COVID-19 in the United States via travelers who attend these events and introduce the virus to new communities." These gatherings include concerts, festivals, weddings, conferences, sporting events, and any event with a large group of people.
Social distancing (not to be confused with social distance) is a precaution that is taken to minimize or prevent the growth of a disease.
In order to take part, one must be at least 6 feet apart from anyone else, limit nonessential transportation/travel, and prevent participating in social events. Due to COVID-19 mainly being spread through physical contact and respiratory droplets, social distancing is most effective this way. If it were to be primarily spread through water, food, or an insect, then social distancing would be less effective.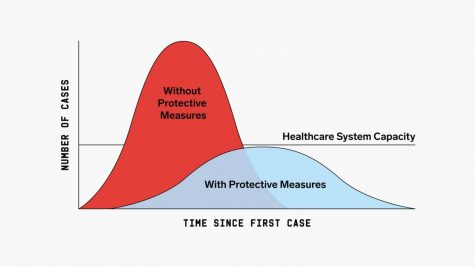 As healthcare facilities and hospitals are bombarded with patients, their capacity can be reached and even exceeded. This is commonly known as a fast-growing pandemic. By enacting social distancing, this can be turned into a slow-growing pandemic and allow hospitals to take care of all patients without the risk of shortages in supplies, staff, and rooms.
Depending on where one's location and current situation with COVID-19, social distancing and quarantine will benefit each place differently. The Substance Abuse and Mental Health Services Administration (SAMHSA) says, "quarantine separates and restricts the movement of people who have been exposed to a contagious disease to see if they become sick. It lasts long enough to ensure the person has not contracted an infectious disease." With isolation, it "prevents the spread of an infectious disease by separating people who are sick from those who are not. It lasts as long as the disease is contagious." It is not uncommon for anyone to experience the following while social distancing, under quarantine, or in isolation:
Anxiety over the health status of someone, time taken off of work, challenges of obtaining items from the store
Concern about taking care of others and themselves
Uncertainty about the present and the future
Frustration and boredom due to the lack of activities
Loneliness tied to being cut off from the world and loved ones
Anger over the situation
Feelings of depression (hopelessness, changes in appetite, sleeping too little or too much)
Symptoms of post-traumatic stress disorder (flashbacks, distressing memories, nightmares, being easily startled, and changes in thought and mood)
SAMHSA emphasizes the importance of staying up to date and relying on credible sources while not giving full attention to media coverage. "Avoid watching or listening to news reports 24/7 since this tends to increase anxiety and worry," they advise. "Remember that children are especially affected by what they hear and see on television."
The World Health Organization (WHO) highly encourages others to look out for themselves during the outbreak, saying: "If you feel overwhelmed, talk to a health worker or counselor. Have a plan, know where to go and how to seek help for physical and mental health needs if required."
In the meantime, engaging in activities that have helped throughout other difficult times can help guide emotions and thoughts. Listening to music, drawing, planting, doing yoga, looking at virtual tours, and binge-watching a series are some of the highest recommended activities. Keep up a healthy lifestyle, and make sure to maintain a healthy sleeping routine, eat well, and stay connected.