Forensic Speech Team Begins at Kempsville
Kempsville High School has many athletic teams, but Ms. Mary "BouBou" Boubouheropoulos has started a performance-based speech competition team: forensics. Rather than the investigative science you may picture, the club is focused on forensic speech, which is the study and practice of public speaking and debate. Boubouheropoulos, while never having coached a forensics team before, is Kempsville's only public speaking and dual enrollment public speaking teacher. 
"So, I do know the public speaking side. I've never coached forensics, but that's ok," said Boubouheropoulos. "I feel because Kempsville has not entered a [forensics] team for so many years, they have no idea what we can do, communication-wise, at this school."
Boubouheropoulos explained the different forensics categories and the things judges look for in a forensic speaker to prospective team members at an information meeting held on November 22. "I feel like we could truly drop the mic on the city," she continued. "I am looking forward to doing that because I love competition."
"I was asked to sponsor a team because we didn't have a team for many years. It was important to give kids an opportunity and a forum," Boubouheropoulos explained. "I have never been involved in forensics, but I have been involved a lot in public speaking, so I bring that to the table as far as years of experience as a speaker and a teacher and someone who's really interested in communications and the study of communications."
Boubouheropoulos explained that she is still learning about the competition, but she's very optimistic about the team. The city-wide competition will be held on February 8. 
Schoology group information is posted outside her door for all those interested in learning more. 
About the Contributor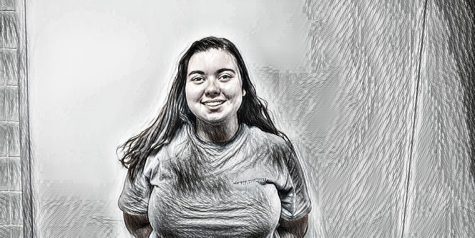 Paxton Coley, Managing Editor
I'm a senior here at Kempsville. I'm involved in not only the Treaty, but also the senior class government, drama club, SCA, WKHS, and marching band. I...