Michael Coles: Clothing, Cookies, Coffee, Cash, and Coaching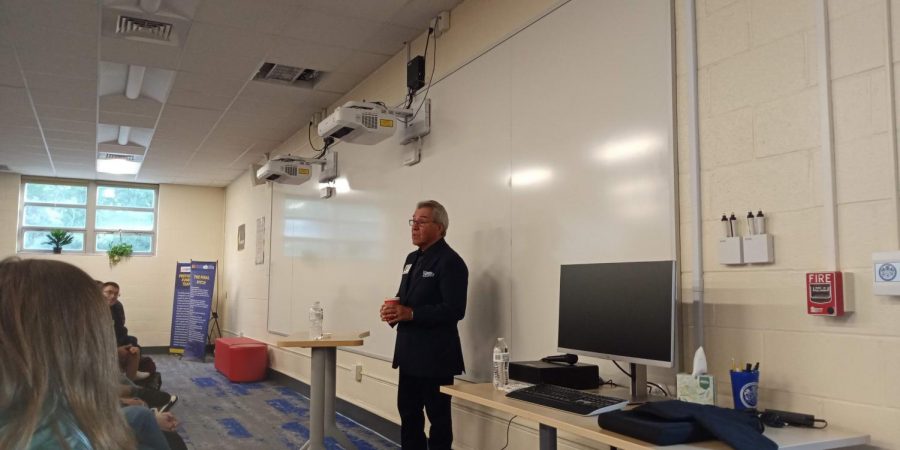 Michael Coles, a co-founder of the Great American Cookie Company and former CEO of Caribou Coffee, came to visit Kempsville High School during the first block on Wednesday, September 18, to speak to Entrepreneurship and Business Academy (EBA) students, and to encourage them to "do more than they think they can."
 Coles has been involved in many successful business ventures, as he began working in the clothing industry at age 13 and had a 19-year-long streak in clothing before co-founding the Great American Cookie Company. He ran for House of Representatives in 1996, and for senate in 1998, the same year that he sold the Great American Cookie Company, after which he went on to become the CEO of Caribou Coffee. He also served as chairman of Brand Holding Company and Brand Bank.
Shortly after the first Great American Cookie store opened, however, Coles was involved in a motorcycle accident which temporarily crippled him. 
"Six weeks after we started the company, I woke up in a hospital with doctors standing over my bed telling me that I was going to live, but I'd been involved in a near-fatal motorcycle accident, and I would probably never walk normally again," Coles said. "But considering the alternative of not waking up at all, I thought that was okay." 
Nine months later when he tried to race his three-year-old daughter up the driveway and couldn't make it with canes, he changed his mind and began a self-styled rehabilitation program that took him from a stationary bike to a regular bike. 
"It was the first time since my accident that I realized I was disabled. But it wasn't so much disabled in my legs:  I was disabled in my mind. I grew up as a very poor kid; my dad went bankrupt when I was 10. And I was forced to literally go to work when I was 13. Throughout my life, people always told me what my limits were, and it always gave me incentive to prove them wrong." 
He took that incentive and ran with it, biking longer distances and continuing to grow the Great American Cookie Company. By the time his $8,000 investment in the company had grown to a hundred million dollars in sales and over 400 stores nationwide, he had not only learned how to walk again but also set three world records bicycling across the United States, two of which are still currently standing.   
He told his story to inspire students to take challenges and step out of their comfort zones, as well as advise them on good business practices. 
"I had always been told growing up, what my limits were," he explained. "But I will tell you that morning, [after my accident], I didn't have the screen that I eventually wound up with. I was scared to death about what to do. I remember thinking back about stories of overcoming adversity. And the first story I remembered was the story of David and Goliath. The story of David and Goliath… is a small man walks into the valley against this enormous giant who has weapons, and armor, and not only wins the battle against this guy with nothing more than slingshot stones, he kills the guy. But that was never my take away from the story. The take away for me… was always that David had the courage to take the first step and walk into the valley without knowing the outcome. And I would tell you all this: every one of us faces Goliath challenges every day."
He explained further about challenges he encountered and overcame, explaining to students how he and Arthur Karp, his partner and co-founder in the Great American Cookie Company, had prepared and planned before opening their first store. Yet, on the very first day, after they had made 300 cookies and they were done browning in the oven Coles and Karp realized that they had forgotten one crucial thing: oven mitts, to pull them out with. 
"The difference between success and failure is never what you plan for," Coles said.  The difference between success and failure is how you deal with the unexpected. If you're going to go out and be entrepreneurs, or if you go into business, or whatever you [do] – this lesson is the same in business and life. Those moments come, and it's how you deal with it. The difference between success and failure is the unexpected things that will happen to your business." 
Students were also given a chance to ask questions after Coles was done talking. 
"Everything you've done so far starts with a 'c', so is your next 'c', coaching?" asked one student. 
"That's actually what I like," responded Coles. "I want to be a coach. I want to try and help people learn, what I've done right, what I've done wrong, and learn from those hard lessons."
Michael Coles' biography, "Time to Get Tough: How Cookies, Coffee, and a Crash Led to Success in Business and Life", is available for purchase here.
About the Contributor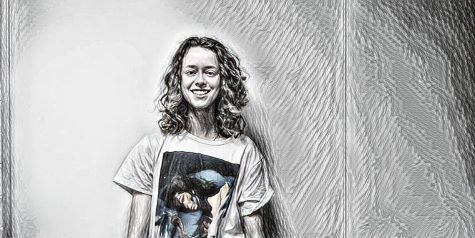 Sydney Haulenbeek, Editor in Chief
Sydney Haulenbeek is a senior and a fourth-year writer for The Treaty. She enjoys researching and analyzing nonsense, wasting time on Twitter, and working...