Meet Your Candidates for the Senior Class President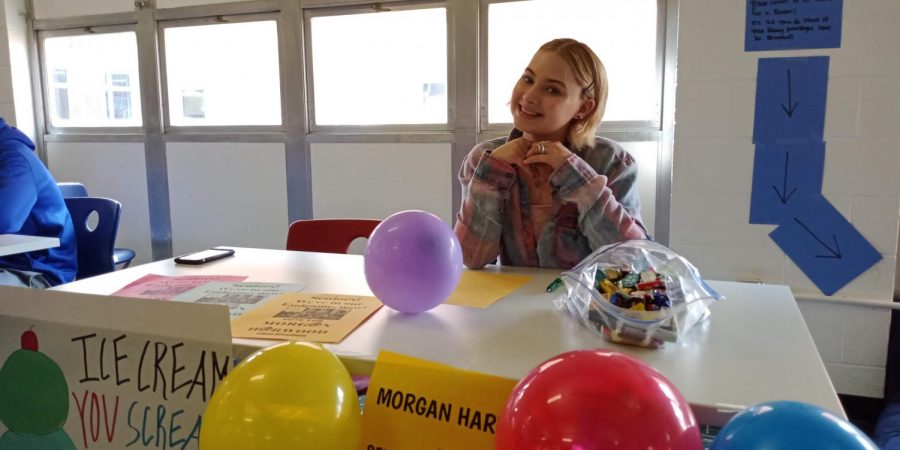 Class council and SCA elections are right around the corner at the beginning of April. On Friday, March 22, 2019, a Meet the Candidates event was hosted for students to mingle with and speak to 2019-2020 class and SCA candidates. During this event, the students running for office had the opportunity to speak with their classmates and lay out their campaign goals.
Patrick Bowles, who was the president of his council at Leadership Workshop and who leads his church youth group, had a few things he wants to accomplish should he be elected as senior class president.
"I wanted to run for president because I wanted to be able to give everybody a good senior year. And I want to make the senior trip happen again – something that hasn't happened in the school in a really long time – and make sure we're fundraising enough money for senior prom; [in order to] make sure it's a good experience for everybody.
As for why he thinks he's the best candidate?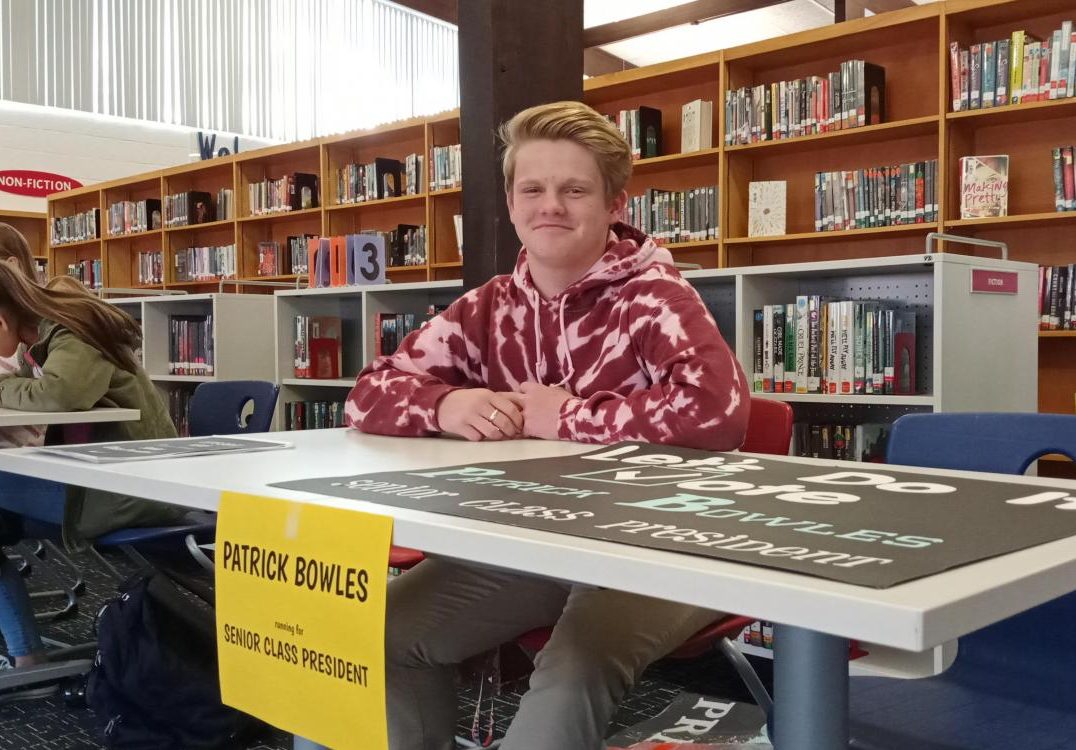 "I know I'll put 100% in when it comes to fundraising," Bowles said. "And I know I won't give up. If I hit a dead end, I'll keep going."
Timmy Doss, who is also running for senior class president, emphasized communication in his campaign plans.
"I want to make the school a better place. I feel like a lot of students don't know what's happening or going on, and that can really hurt. There's a lot of scholarships going around that people don't know about, and people rarely listen to the announcements. I really just want to make school life as easy as possible because it's tough.
And as for prom, he already has a plan: A free-response Google form system for students to send in their ideas.
"Most people don't go to the SCA meetings," Doss said. "I really just want to get everyone involved."
Doss has three goals in mind should he win senior class president.
"Number one," he said, "To make senior class as easy as possible."
Number two: prepare for Prom – and it's fundraising. Number three: boosting awareness through announcements to "really get people involved."
School spirit is a problem, he pointed out.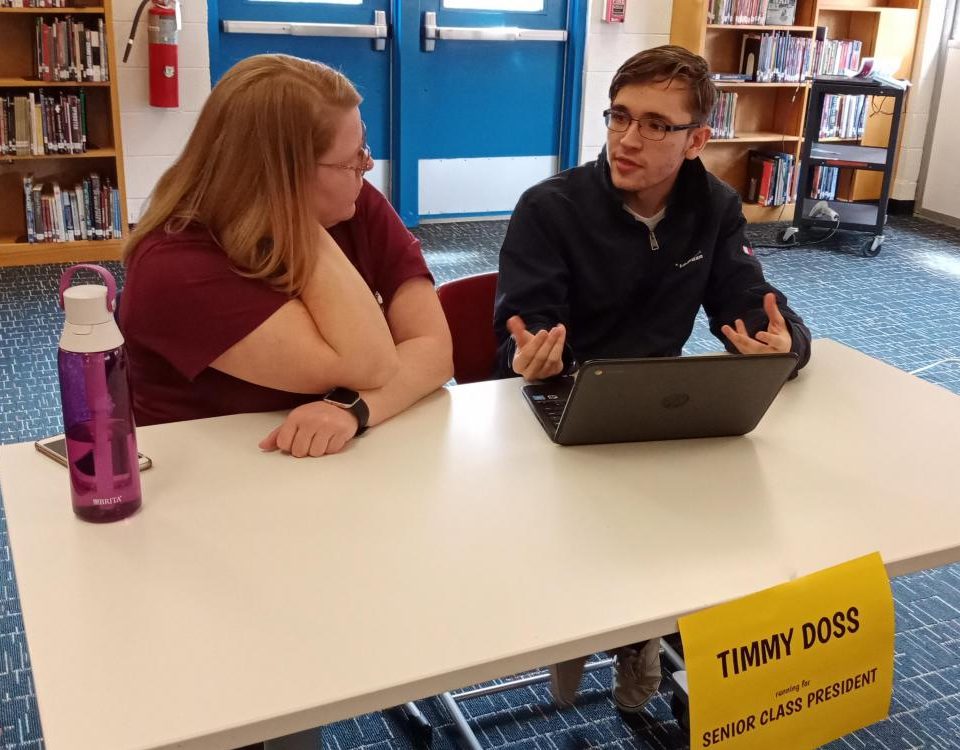 "A lot of people don't know what our teams are winning, and I want to bring up school spirit by getting them excited for these events. Most people don't even know the games that are happening."
"I really want to do this. I have a passion, and I feel I can do this. I can definitely meet all the standards for president, and I feel like that if I got elected I would really be able to do something."
The last senior class president candidate is Morgan Harwood, who is currently working toward one of her goals – a bathroom beautification project – and who believes she can push to make a change.
"I definitely want to get all the bathrooms done. My goal is to have all of them done by the time I graduate. I also think it would be really cool to have a senior lock-in on homecoming. A lot of upperclassmen don't go to homecoming. It's normally a freshman / sophomore thing – or that's how it seems. I think if there was a senior lock-in after, it would be really cool for us all to bond and play games, share our experience and what we learned at Kempsville.  
She also, much like Doss, wants to promote communication between students.
"I decided to run for president because Kempsville is like a home for me. I want people to feel welcome [and] more engaged in activities."
One way she feels this can happen is through a school garden.
"I really want a school garden," Harwood said. "I think it would be really cool if the cooking club could grow their own vegetables. I just think that would be a good way to get people together."
"I definitely advocate for the underdog," said Harwood. "A couple weeks ago I noticed that freshman and sophomores who can't drive were waiting for the activity bus. They all sit on the radiators and do homework. It kind of upset me because they should be able to come in [the library]. I talked to the librarians and Mrs. George, and we came up with a plan to allow them in the library instead of staying out there. Little things like that – I just want to make Kempsville better than how it was when I came as a freshman."
"I think I'm the best candidate because I'm not afraid to be vocal and stand up for other people. I have really good connections with the staff. I feel that can be really helpful in giving us an advantage in helping us make change."
SCA and class council voting will be during Tribe Time on April 3 for sophomores and freshman and on April 10 for juniors.
About the Contributor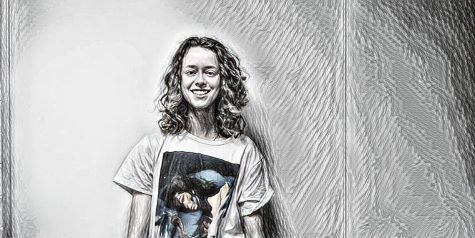 Sydney Haulenbeek, Editor in Chief
Sydney Haulenbeek is a senior and a fourth-year writer for The Treaty. She enjoys researching and analyzing nonsense, wasting time on Twitter, and working...